Amexicano
(2007)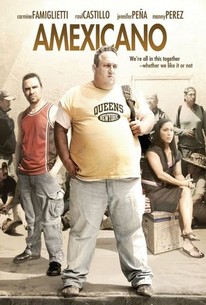 Movie Info
A man with little positive to say about illegal immigrants finds himself working with one in this comedy drama from director Matthew Bonifacio. Bruno (Carmine Famiglietti) is an Italian-American guy who lives in Queens, NY, and has lost his job. While Bruno has been looking for work, a steady job has been hard to find, and with his unemployment running out, he needs to start making some money. Someone arranges for Bruno to do some temporary work in landscaping and household construction, and he finds himself working alongside some of the Hispanic day laborers who wait every morning on Northern Boulevard looking for work. Bruno is not the most open-minded guy on Earth and initially bristles at the prospect of sharing the workspace with illegal aliens, but after a few days working with Ignacio (Raúl Castillo), the two strike up a rapport, even though Bruno can't speak Spanish and Ignacio knows no English. Bruno develops a genuine respect and admiration for Ignacio and his wife, Gabriela (Jennifer Peña), through their hard work and determination to improve their lives, but their legal status ensures their story will not end well. Amexicano was screened as part of the 2007 Tribeca Film Festival.
Critic Reviews for Amexicano
Audience Reviews for Amexicano
I really liked Amexicano from the start & I guess I was hoping for some feel good type movie & thats the way it started but I didnt get the ending I was hoping for.It is a feel good movie but there's some sadness in there as well.I loved the movie & I would've rated it higher but the ending screwed it for me.I just wished the ending would have turned out the way I wanted it to
Brody Manson
Super Reviewer
Amexicano Quotes
There are no approved quotes yet for this movie.