Azur et Asmar (Azur and Asmar: The Princes' Quest)
(2006)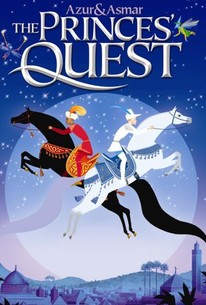 Azur et Asmar (Azur and Asmar: The Princes' Quest) Videos
Azur et Asmar (Azur and Asmar: The Princes' Quest) Photos
Movie Info
Two lifelong friends set off on a remarkable adventure in this animated feature. Azur (Rayan Mahjoub) is an orphaned boy living in 18th century France, where he's being raised by Jenane (Hiam Abbass), a nurse of Arab heritage who cares for the boy alongside her own son, Asmar (Abdelsselem Ben Amar). Jenane regales the boys with tales of the mysterious Fairy Djinn, a magical creature with great powers but equally great protectors at her disposal. Azur is sent away to school, but when he returns home as a grown man (now voiced by Cyril Mourali), he finds Jenane and Asmar have gone. Convinced the Fairy Djinn is responsible, Azur hops a ride aboard a sailing ship and sets out to find the Djinn as well as his friends. However, in time Azur meets up with Asmar (now voiced by Karim M'Ribah) only to discover he and his mother are also searching for the powerful Djinn for their own purposes. Now that his best friend has become a competitor in the race to find the Djinn, Azur recruits a team of helpers to aid him as he tries to beat Asmar in their game. Azur and Asmar received its world premiere at the 2006 Cannes Film Festival.
Critic Reviews for Azur et Asmar (Azur and Asmar: The Princes' Quest)
Audience Reviews for Azur et Asmar (Azur and Asmar: The Princes' Quest)
½
Michel Ocelot's jewel-like fable unfolds in a once-upon-a-time version of medieval North Africa alive with vibrant colors and dazzling patterns.
Lee Mayo
½
Not really something I'd normally have a kid watch. Mostly cuz I don't think most kids would be into watching a movie with subtitles for part of it. Not to mention I don't want to see a woman breast feeding, even if it's not real.
Sarah Helwig
½
This is one of the most beautifully animated films that I have seen in a long time. The story has a lovely (and simple) message about harmony and friendship. The narrative style takes a little time to get used to; it is sort of episodic. Oddly enough, my favorite characters were not Azur & Asmar, but rather Jenane, their nurse/mother, and the feisty little princess Chamsous Sabah. I loved the ending, finding it charming and worthwhile. For those who enjoy animation as well as fairy tales, I highly recommend watching this. I wish that the DVD had some extras about the making of the film or the inspiration for the original script. However, I'm happy enough that the movie finally got a U.S. release.
Sharon Weinberg
Azur et Asmar (Azur and Asmar: The Princes' Quest) Quotes
There are no approved quotes yet for this movie.
Discussion Forum
Discuss Azur et Asmar (Azur and Asmar: The Princes' Quest) on our Movie forum!