Baby Driver
(2017)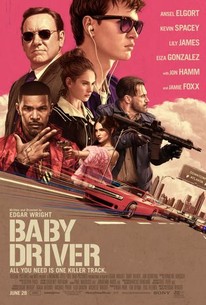 TOMATOMETER
AUDIENCE SCORE
Critic Consensus: Stylish, exciting, and fueled by a killer soundtrack, Baby Driver hits the road and it's gone -- proving fast-paced action movies can be smartly written without sacrificing thrills.
Movie Info
A talented, young getaway driver (Ansel Elgort) relies on the beat of his personal soundtrack to be the best in the game. But after being coerced into working for a crime boss (Kevin Spacey), he must face the music when a doomed heist threatens his life, love and freedom.
News & Interviews for Baby Driver
Critic Reviews for Baby Driver
Audience Reviews for Baby Driver
½
With his "Cornetto trilogy" and Scott Pilgrim vs The World, Edgar Wright has amassed a fervent following. He's a director that can seemingly do no wrong in many people's eyes but this enthusiasm is one that I've often questioned. I don't think that Wright has produced enough overall quality to be considered so highly in people's estimations. Stylistically, he's fantastic and there's always an energy and a plethora of good ideas on display but I've always struggled with how much mileage he tries to squeeze out of his material and how he brings his stories to a close. Baby Driver, as enjoyable as it is, suffers a similar fate. Plot: Crime boss, Doc (Kevin Spacey) is a meticulous planner of robberies but the one Ace in his pack is getaway driver, Baby (Ansel Elgort). Baby has a partial hearing impairment but when he's listening to music, there's nothing he can't do when maneuvering a vehicle. Baby doesn't want this life anymore, though. All he wants is to spend time with his new girlfriend, Deborah (Lily James) but when she comes under threat, Baby is forced back into working with Doc and a crew of unstable thugs in order to break free for good. There's a lot of impressive ratings and reviews flying around for Baby Driver and they seem to be coming from very reputable critics into the bargain. I would love to feel invited to the party but for as much as Baby Driver is exciting and hugely enjoyable it has issues that prevent me from agreeing with the majority of overly positive buzz surrounding it. For a start, the film begins so enthusiastically that the rest of the film never quite matches its early promise. Credit where it's due, though, Wright has crafted a very clever take on the heist film and plays things out with a blend of La La Land's musical numbers and the stylish and exciting getaway scenes from Drive. It would seem that there's certainly one thing Wright got wrong and that was his failure to cast Ryan Gosling. Throw his expertise into the mix and this could have achieved another half star. Jesting aside, if you don't put Baby in the corner and just let him do his thing, there's plenty to enjoy here. The eponymous Ansel Elgort is a more than able lead and he delivers a fine central performance where his reservation is complimented by his background in dancing. He's abley surrounded with an impressive and colourful collection of support as well; Jon Bernthal, Jon Hamm and Jamie Foxx trying to outdo each other in the menacing stakes is a lot of fun in itself and it's great to see them spearheaded by the reliable and infinitely watchable Kevin Spacey. There's no denying that it's a great cast but even they are overshadowed by the structure and panache of Wright's approach. It's his use of music that's the biggest draw and Wright skillfully blends an abundance of classic tracks that seemlessly fit the action onscreen - he even times Baby's movements to the beats of the particular song that plays at any given time. From this, it's obvious that he's done his homework on synchronising this whole thing together - with the occasional nod to the influence of Tarantino and how he incorporates music in his films. The thing is... apparently Wright had been mulling this project over for two decades. With that in mind, I'd have thought that within that time he would have been able to iron out some flaws in his screenplay. I feel as if I'm being unfair on the film as it's not my intention to overly criticise something that I found to be very lively and entertaining but I'm a bit taken aback that most critics seem to be glossing over the film's problems. These are most apparent in the denouement where Wright seems to run out of ideas. Shootouts become preposterous and his villains become caricatures while the motivation and behaviour of Spacey's character, in particular, changes so dramatically that you're left wondering if you've missed something. There's so denying that the film is a welcome breath of fresh air but it's not groundbreaking in any sense and, again, fuels the fire that Edgar Wright endeavours often have. It's a great idea and it's delivered with aplomb but on a basic basis it's nothing more than entertainment. This isn't a bad thing per se, but it's not revolutionary or likely to achieve any classic status. Despite succumbing to formula, Edgar Wright does a good job of providing the thrills. It's not perfect but I'd still goes as far to say that it's his most accomplished endeavour. It's snappy, it's fast paced and it has an abundance of style. These attributes alone make it worthwhile. Mark Walker
Mark Walker
Super Reviewer
½
Incredible car chases, a thick, pulsating soundtrack, lickety-split editing, and choreographed moves very nearly like a musical, or at least a music video, this is one bad boy that ain't sorry for a thing. Enjoy some stone legit movie magic for a change.
Kevin M. Williams
Super Reviewer
This film is great in some aspects, but poor in others. Baby Driver gets its fuel from its soundtrack, choreography and directing. The film hits some snags when it comes to acting and writing, especially in developing the characters and the messy final act. If you like great car chases, throwback music, heists, and are okay with an average story then this film is for you. Personally, I wish the writing went a little deeper and was a little cleaner.
Sanjay Rema
Super Reviewer
Baby Driver Quotes
There are no approved quotes yet for this movie.
Discussion Forum
Discuss Baby Driver on our Movie forum!