Black Sabbath (I Tre volti della paura) (The Three Faces of Fear) (The Three Faces of Terror)
(1963)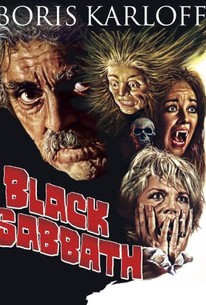 Movie Info
This anthology features three chilling horror stories. "Il Telefono" is credited to Guy de Maupassant, although he never wrote such a story, and concerns a woman (Michele Mercier) receiving telephone calls from beyond the grave. "Wurdulak", by Alexei Tolstoi, stars Boris Karloff as an aging vampire who can only feed on those he loves. Co-starring Mark Damon and Susy Andersen, it is clearly the best story of the three. The final tale, "La Goccia d'Acqua," is falsely credited to Anton Chekhov. It features Jacqueline Pierreux stealing a ring from a corpse she is preparing for burial, only to be murdered by the old woman's ghost. The American version differs in four major areas: the print is shorter, the stories appear in a different order, there is a linking device with Karloff speaking directly to the audience from a foggy void, and Roberto Nicolosi's musical score is replaced with one by lounge-icon Les Baxter. The American release of the film is also missing a comic coda featuring Karloff riding on horseback (or is he?); this appears in most Eurpoean prints of the film, including Mario Bava's original cut. ~ Robert Firsching, Rovi
News & Interviews for Black Sabbath (I Tre volti della paura) (The Three Faces of Fear) (The Three Faces of Terror)
Critic Reviews for Black Sabbath (I Tre volti della paura) (The Three Faces of Fear) (The Three Faces of Terror)
Audience Reviews for Black Sabbath (I Tre volti della paura) (The Three Faces of Fear) (The Three Faces of Terror)
½
Enjoyable classic horror. I liked the first two stories the best. The vampire one lost me a bit.
Nicki Marie
Super Reviewer
Yes this is the film that the famous rock band took their name from after they saw how people enjoyed being frightened. An Italian horror movie with a low budget but an international cast, so a different flavour to the British horror anthologies. This film was also one of the first horror anthologies I do believe, before the likes of Amicus and Hammer got the idea. The stories are introduced by Boris Karloff who is simply standing in front of a dated psychedelic-esque background and giving a speech about all things creepy basically. The funny thing is he is dressed quite normally in a simple suit and is hammering on about vampires and spectres as if this were a Vincent Price movie. The stories you see aren't really in that classic vein though, these tales are actually much more grounded and genuinely creepy (well two are). The first short story revolves around a young French call-girl who starts getting terrorised by phone calls from her ex-pimp (spoiler alert). This pimp has just broken out of jail and is threatening her life because she was responsible for putting him away. The young girl calls her female friend around to help and comfort her, little does she know the threatening calls are from her friend who is simply trying to reunite with her. The friend figures this is the only way the young call-girl will allow her back into her life...pretty extreme way of making up isn't it! In the end the real pimp shows up and kills them both just as the friend was writing a note to explain what she has been doing. This first tale is quite poor I think, its in no way scary or remotely thrilling, especially when you discover the friend is behind it all. The thing is this revelation gave me a better idea, they should of made the pimp the one behind the calls as originally expected. Then in the end when the call-girl discovers this it would have been cool to also find out the pimp was killed in his prison escape attempt so all along the calls were coming from beyond the grave. The fact that the pimp merely turns up and kills both young women is a complete anticlimax, just a basic murder. Its very glossy though, it actually looks like a high production porn flick at times. Next up is a more kooky traditional tale of ghoulies in the night...well a spin on vampire lore actually. Set in 19th century Russia a young man stumbles across a small family in the wilderness who are battling against a breed of creature known as Wurdalak. These things are undead zombie types that feed on the blood of the living, especially relatives they once knew strangely enough. Karloff plays the father of this family that ventured out to kill a Wurdalak but has returned one himself, naturally the story plays out as a battle of survival for all the living. Definitely the best looking of the three stories, the sets and props are really sumptuous in this and could easily be part of a full length movie. Great atmosphere with the swirling mist and bleak locations but the actual tale is pretty daft really. Karloff is wonderful as the pale grizzled bearded undead nightstalker but end of the day he's merely playing an unkempt Dracula. Everything goes as you might predict admittedly but thinking back I just can't fault the production values on this one. The final act sees a woman stealing a fancy ring off another woman who has recently passed away. This sets off all manner of supernatural occurrences such as a mysterious dripping of water, a mysterious fly that won't leave her alone and eventually the dead woman's corpse actually appearing before her. Now this short vignette is the jewel in the crown for this movie, its actually incredibly spooky and very atmospheric with the dripping water echoing around the woman's house. It really does give you the chills...that is until the finale where the corpse appears and really does freak you the fuck out! The dead body has this God awful twisted expression on her face which is enough to keep you up at night I kid you not, that on top of the whole 'Ring-esque' sequence where it moves towards the terrified woman. The final twist in the tale here is again predictable but oh so delicious. There is no way an American movie in that era would or could pull off something this scary, at the time this was hard core stuff, the Italians were bold and brave. The mix of half naked ladies, the image of call-girls (hookers), blood and the surprisingly scary final story gave this film a real edge rarely seen in British or American horror anthologies. What's more this entire production clearly has so much class, skill and polish, every segment looks great, sounds great and could work as an individual movie in its own right. The first is standard murder fare, the second is standard ghoulish fare and the third is possibly the inspiration for many modern horror movies ('The Ring'!)...but they are all done very stylishly making other examples look crap in comparison. Its such a shame Bava chose to end the movie by revealing Karloff astride a fake horse and with all the cameras and crew. The main camera pulls back to reveal the studio floor as Karloff finishes his spooky speech. Not too sure why he's in his Wurdalak character get up either. Can't deny its a fun little ending and very interesting to see how they did that effect, but at the same time I can't help but feel they kinda extinguish everything they managed to created and visualise so well prior to that. 8/10
Phil Hubbs
Super Reviewer
½
Mario Bava's "Black Sabbath" or "I Tre volti della paura" is an old school form of horror filmmaking. I don't mean that in the sense of it being "old". I mean it's horror done in a fashion that's seemingly long gone. Slow takes, nail-biting tension and skin crawling atmosphere as one would expect from the director. It also shows a different side to Boris Karloff rather than the Universal Monsters depiction most of us have come to immediately recognize him for. He is macabre yet somehow remains charming. Black Sabbath is a great film and one of the few genuinely gothic horror films in existence. If you like horror films, you need to see this one. And if you don't like horror films you need to see this one even more. 3 great stories designed for late nights.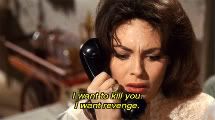 El Hombre Invisible
Super Reviewer
Black Sabbath (I Tre volti della paura) (The Three Faces of Fear) (The Three Faces of Terror) Quotes
There are no approved quotes yet for this movie.