Brainscan
(1994)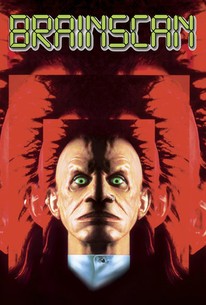 Movie Info
The tale of a CD ROM game that gives new definition to the term "interactive" is the subject of this horror movie, notable for its lack of the blood and guts that have characterized modern horror films. 16-year old Michael loves horror movies. The lonely, misanthropic nerd also loves computers. His mother is dead, and his father is frequently away on business so Michael has a lot of time to kill. While reading a horror magazine Michael spies an ad for Brainscan, an interactive CD-ROM. The game is designed to "interface with your unconscious." Intrigued, Michael buys it. Trouble ensues the first time he plays after he is hypnotized by the screen and dreams of stabbing a stranger and then amputating his foot. The shaken boy awakens only to discover a human foot in his refrigerator. He soon meets the evil rocker Trickster who lives within the CD. Trickster warns him that the police will soon discover what Michael did. To save himself, the boy must follow Trickster's rules. The first is that he must keep playing new versions of Brainscan.
People Who Like this movie also like
Critic Reviews for Brainscan
Audience Reviews for Brainscan
½
Brainscan has a very unique idea for a sci fi horror film. This is an underrated horror film, and it deserves a better rep than it has received. Director John Flynn directs this film about a virtual reality based video game called Brainscan which places the player in the role of a killer. Though this film has some dated special effects, Brainscan's strengths lies within the acting and good plot. The concept of the film is good, and it's got some good ideas for an effective horror film, and it makes Brainscan a worthy film to watch. I personally think that the key aspect of the film is T. Ryder Smith's performance as Trickster. His performance makes the film even more watchable. Despite its flaws such as dated special effects, this is a terrific Sci Fi horror film that has good performances. Brainscan may be misclassified as a sort of Slasher film, but it's not. The film relies on atmosphere to create tension on-screen, and it works. With a combination of good acting, effective thrills, decent enough effects, Brainscan is a good, underrated sci fi horror film. Director John Flynn does a remarkable job at blending two genres. Brainscan delivers good thrills and is far better than what you'd might think. Brainscan is a a well constructed horror film and should be seen by fans who enjoy something different. T. Ryder Smith performance alone makes this worth seeing. Give Brainscan a chance, you may be surprised at how good it really is. Like I said, the cast deliver here and, it's one of the many aspects that make Brainscan such a cool bizarre sci fi horror film.
½
This movie is the cream of the crop of B-grade movies. This seems to be a follow on from Terminator II which stars Edward Furlong as a starring role, the producers loving it because he's "Hot" apparently, and Edward loving it because it's about him. This kid is sent the latest in video game technology, an interactive VR experience which sees him kill another human being, the catch being he's not allowed to leave any witness's or clues. You guessed it, it turns out to be real, and he is suspected for murder. The only way he can clear his name is to keep playing the game and try to cover his tracks, but move bodies pile up until it's all just too much for a sixteen year old to bare. The preformances are all top notch, except for the main ten actors, it's surprisingly watchable if it's late and there's nothing else on. The villan, a cyber-spook called the "Trickster" is supposed to be sinister, despite outbursts of comic relief behaviour, such as dancing around the boys bedroom to Primus' "Welcome to this world". Overall a good effort, and like i said, it's the cream of the B-grade crop.
Cassandra Maples
Super Reviewer
I thought The Trickster was a great charcter. He sure entertained me. Also, the idea was well concieved and illustrated, especially as the idea of violence in entertainment affecting your behaviour is a very current one even now.
Brainscan Quotes
There are no approved quotes yet for this movie.