Buddy Boy
(2000)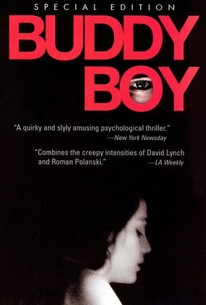 Movie Info
In this bizarre drama that would seem to have "cult item" written all over it, Francis (Aidan Gillen) is a severely introverted young man with a speech impediment who shares a shabby apartment with his bedridden mother, Sal (Susan Tyrrell). Francis has developed certain voyeuristic tendencies which are satisfied through his job in a photo lab, where he helps process other people's snapshots all day. Soon Sal has a new boarder, a massive plumber named Vic (Mark Boone Junior), and Francis notices that a beautiful woman has moved in across the street -- who, to his delight, never draws her curtains. One day, while walking home, Francis sees the woman being attacked by a mugger, and he's able to rescue her. The grateful woman introduces herself as Gloria (Emmanuelle Seigner) and begins flirting with Francis; the evening ends with Francis in Gloria's bed, hardly able to believe his good fortune. However, he can't help watching her from across the street, and when the staunchly vegetarian Gloria is gobbling down some meat, he begins to suspect that not everything is what it seems to be, leading him into a labyrinth of violence and murder. The score was composed by Michael Brook, with contributions from Brian Eno.
Rating:
R (adult situations/language, sex, violence)
Genre:
, ,
Directed By:
In Theaters:
On DVD:
Runtime:
Studio:
Independent Pictures
Audience Reviews for Buddy Boy
"Buddy Boy," Mark Hanlon's debut, is a haunting and potent film about dead end lives that provokes more questions than answers but remains bizarrely interesting throughout. The film provides a look into the surrealistic existence of emotionally stunted, stuttering misfit Francis (Aidan Gillen,) who lives with his trollish invalid stepmother (actual amputee Susan Tyrell) in a squalid apartment. Suffering from overwhelming guilt concerning his sexuality, his religion, and himself, he goes to confession monthly, admitting every impure thought and indiscretion. The contrast between faith and the id is revealed in the opening, which presents the viewer with a montage of religious imagery followed by Francis, uh... pleasuring himself to a magazine pair of voluptuous breasts. Like Kevin Spacey in "American Beauty," this is the high point of his day, which soon descends into woeful monotony. He finds a new past time in spying on his attractive neighbor Gloria (Emmanuelle Seigner, controversial Polish director Roman Polanski's wife) through a hole in his apartment. Then they meet. Gloria is strangely attracted to Francis, which would be unfeasible if she weren't clearly lonely and desperate too. She tells him she is a vegan, a word he doesn't understand, but he catches on. According to her, she doesn't care what he eats, but then she buys him a 'Meat Is Murder' T-shirt, which is a mixed message if I ever saw one. This further accentuates the character's conflicting beliefs and desires. Gloria is pretty and nice, too nice, and Francis begins believing irrational things about her pastimes, focusing on her eating habits. Meanwhile he becomes increasingly psychotic (?) and has a falling out with God. Is Francis going insane. Or is meat back on the menu? "Buddy Boy" is an enigma- although declared a religious allegory by Imdb users, it at times seems to be making a statement against Christianity. In fact Francis spends so much time obsessing about his masturbating, sinning ways that the viewer wishes the poor guy would just snap out of it. The movie is a triumph of atmosphere- the bleakness and decay of Francis and Sal's apartment is palpable, while Gloria's big-windowed, pleasingly green abode seems to spell change for the troubled young man. The problem, it seems, is the vast contrast in acting styles between Aidan Gillen (Francis) and Susan Tyree (Sal. the step mom.) Gillen, from the GLBTQ show "Queer as Folk" (Unwatched by me,) plays his character sensitively and gently, as a fundamentally benevolent albeit strange outcast damaged by trauma and psychosis. Susan Tyree plays his abusive step mom more like a SNL skit. Maybe her broad performance is the fault of the material. When an actress' character is scripted to beat a plumber over the head with her artificial leg (one of the stranger scenes in this story,) maybe there isn't much room for subtlety. "Buddy Boy," nevertheless, is an intriguing first feature and a fascinating story. It walks a fine line between being campy and profound, which isn't necessarily a bad thing. I like the humanization of Francis, a character who might be written off as a scummy voyeur, or worse, as white trash. It raises interesting questions, contains twists, and transports you, which is something films should accomplish, but rarely do.
Sarah Ward
An odd thriller with an odd ending. Does keep you going, the surprise towards the end is surprising, but the ending seems a little rush and confusing.
Mike Leopold
½
This movie was strange indeed, but that wasn't the problem, as I'm drawn to those kinda movies... It was the fact that this movie had a lot of potential but toward the end, it fell apart. The ending could have been stronger and it leaves you with a few questions. But some people like that, when you can come up with your own conclusion. I guess I don't, heh. :P I suppose it's worth a watch if there's nothing else on.
Nicole in Wonderland
Buddy Boy Quotes
There are no approved quotes yet for this movie.
Discussion Forum
Discuss Buddy Boy on our Movie forum!