Call Me Kuchu
(2013)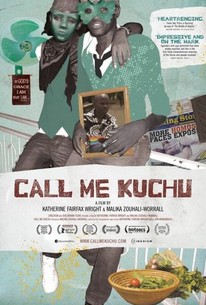 TOMATOMETER
AUDIENCE SCORE
Critic Consensus: Alternately horrific and uplifting, Call Me Kuchu exposes heinous systematic brutality with a clear eye and admirable precision.
Movie Info
In Uganda, a new bill threatens to make homosexuality punishable by death. With unprecedented access, the filmmakers follow David Kato - Uganda's first openly gay man - and his fellow activists as they work against the clock to defeat the legislation while combatting vicious persecution in their daily lives. But no one, not even the filmmakers are prepared for the brutal murder that shakes their movement to the its core and sends shock waves around the world. CALL ME KUCHU depicts the last year in the life of a courageous, quick-witted and steadfast man whose wisdom and achievements were not fully recognized until after his death, and whose memory has inspired a new generation of human rights advocates.
News & Interviews for Call Me Kuchu
Critic Reviews for Call Me Kuchu
Audience Reviews for Call Me Kuchu
There's courage, and then there's what the men and women at the center of Call Me Kuchu display. This exceptional documentary, from directors Katherine Fairfax Wright and Malika Zouhali-Worrall, chronicles the fight for LGBT rights in Uganda where homosexuality is illegal and almost became a capital offense. For these individuals, among them Uganda's first openly gay man David Kato, leaving the country to escape persecution isn't an option. If they leave, who will remain to protect those still in the closet or future generations who will try to live as out men and women among violent zealots? But each stays knowing any day, a bigot will end his or her life, and tragically, over the course of Call Me Kuchu, that will be the case for someone. It's a rough (but important and rewarding) film to watch because while it's easy to admire these men and women, they suffer a lot, and there's little hope in sight. Of course, they're working tirelessly, but the deck is so stacked against them-a leading newspaper, for example, is publishing the names, pictures, and addresses of "suspected homos" in addition to blaming a terrorist bombing on sexual minorities. We never get the impression their winning over hearts and minds. Our half dozen main characters are not alone, however, and Call Me Kuchu ultimately uplifts because we see cracks in this seemingly unbreakable ceiling. They take the aforementioned newspaper-Rolling Stone, which is little more than a tabloid-and its horrifying, smug editor to court and win. They find inroads at the United Nations. And even on the religious front, they find an essential ally in the form of Bishop Christopher Senyonjo, who remarks while encouraging his friends to stay strong, "I am free because I know the truth. And I will stand for that truth." Moving words. If you find yourself troubled by the film's setup, its conclusion might overwhelm you. There's so much raw pain on the screen. I'm not sure I'll ever forget it, but you see those suffering standing tall eventually, and it's encouraging. Call Me Kuchu-which derives its title from a slang term meaning "gay"-shines a light on repression of the worst and most dangerous kind. It shows us how little we as citizens of the world sometimes learn from the mistakes of the past. And it's a heart-wrenching reminder that if you don't stand for something, you'll fall for anything. http://www.johnlikesmovies.com/call-me-kuchu-review/
John Gilpatrick
Documentaries are a mixed bag: some try so hard to make their subject matter palatable to a wider audience that they unintentionally dilute the subject matter. Not this one. This is an unflinching look at a heartbreakingly vulnerable community of gay activists in a country where that can get you killed. Their courage gives new meaning to the word "heroic". They literally stared down the monster of hatred and condemnation, and not surprisingly paid a price to do so. what's not surprising is that some evangelical opportunist would choose Uganda as the perfect place to spout his hate-filled rants and thereby incite and encourage violence against non-violent people who are gay. The Ugandan government officials and tabloid-like newspapapers come across as embarrassingly ignorant, particularly with their insistence that gays are a "threat" to families and that gays "recruit" young people. Like so many thick-headed, myopic people throughout history people before them , they cling desperately to the notion that being gay is a "choice" when it is innate identity. That line of ignorant reasoning allows them to do what religious fanatics have done throughout time, wage war against other people in the name of moral and spiritual superiority. My opinion only, but there is a word for such hate-filled humans: HYPOCRITES. This doc shows them once again fanning the flames of hate and ignoring three simple, but powerful words in the Word: God is love. Luckily, these Ugandan activists had worlwide support in their resistance to laws that would've made being gay worthy of imprisonment and perhaps even death. Interestingly, this doc not only illustrates the hypocrisy of religious hate-mongers, but the power of the Internet to humiliate and shame a country all to willing to play into their hands. This is one very exceptional and brave documentary; don't miss it.
Steven Kerry
Call Me Kuchu Quotes
There are no approved quotes yet for this movie.
Discussion Forum
Discuss Call Me Kuchu on our Movie forum!