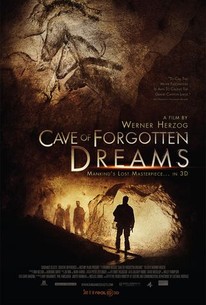 Cave of Forgotten Dreams
2010, Documentary, 1h 30m
138 Reviews
10,000+ Ratings
What to know
critics consensus
Hauntingly filmed and brimming with Herzog's infectious enthusiasm, Cave of Forgotten Dreams is a fascinating triumph. Read critic reviews
Rate And Review
Cave of Forgotten Dreams Photos
Movie Info
In this documentary, filmmaker Werner Herzog and a small crew are given a rare chance to film inside France's Chauvet Cave, where the walls are covered with the world's oldest surviving paintings. To preserve the art, people are allowed to enter the site for only two weeks a year. Examining the 30,000-year-old drawings, Herzog discusses how the artwork represents humanity's earliest dreams with scientists and art scholars conducting research at Chauvet.
News & Interviews for Cave of Forgotten Dreams
Audience Reviews for Cave of Forgotten Dreams
The best way I can describe a Werner Herzog documentary is that if Herzog is excited about a subject, he employs you to become excited about that subject as well. Being taken into a place where only a hand-full of people get to visit is awe-inspiring from the start. The caves Herzog documents are filled with human drawings over 30,000 years old. Previously sealed off from the world, the drawings are in pristine condition despite their age and tell stories of the animals that existed in the time of neanderthals. I find it hard to describe the vastness and grandeur that comes with witnessing such history firsthand; an absolute perfect tour from one of the world's best tour guide.

More than "art appreciation," Cave of Forgotten Dreams aims to meditate on the possible birthplace of what makes you and I mentally unique in the animal kingdom. Herzog has a beautiful opportunity to show what 30,000 years looks like through the development of stalactites and stalagmites layered over ancient bones and footprints. He states at the very beginning that the drawings on this cave are twice as old as the next oldest known drawings. We would expect them to be primitive, but they are far, far from it. We see the emotions of the animals, we see their movements, their breath. We see a legendary myth still alive today. Our abilities to think abstractly, focus, and document our experience are all present here -- all necessary to create our sense of presence and spirituality.

"Mankind's Lost Masterpiece" Cave of Forgotten Dreams is only the second Herzog documentary I have seen; the other being Encounters at the End of the World. Both of which have taken me to a place where I can only dream of going, and have done so with magnificent beauty. That's what this film is all about. Everyone who has complained about Herzog not answering or even asking a lot of questions, is missing the point. This isn't about answers because there really aren't any. Everything about how those paintings came to exist is purely speculation. We can't be transported back tens of thousands of years ago. What it is about is transporting us to a beautiful place that we will never be able to visit and to show us the enormity of human existence. To think about the time between when these paintings were created, relative to where we are now is mind blowing; at least to me anyway. Herzog does everything right because he lets the cave paintings do the talking. His narration isn't there to give us countless facts about what we are seeing, but is there to show an admiration for what we are seeing. He almost lyrically embraces every painting we see, in such a beautiful way. Then he'll just stop talking, play music, and show us the paintings because that's what we are watching for.  Making guesses as to how these paintings were made and by whom is just not important, and is really below Herzog. The enormity of what we are looking at wouldn't come across if all he was doing was asking experts their opinions as to a variety of pointless questions. No, this movie is all about the silence. I especially enjoyed the part where he told everyone in the cave to be quiet and just filmed the silence in the cave. These paintings have existed for thousands and thousands of years without anyone even knowing it. They existed in silence, yet they still existed. I love how he brings us back to this moment at the end with the heartbeats.  If this bores you, I really do feel sorry for you, because you would have to be so out of touch with the human soul that Herzog talks about, to not be completely moved by it. Cave of Forgotten Dreams is a one of a kind film that only Herzog could make.  In many ways, this film is almost too breathtaking to describe. To describe its beauty in a way that is respectful is damn near impossible. 

Herzog tackles yet another fascinating subject, this time focusing on a lost cave, sealed off from time for tens of thousands of years, and home to the oldest known paintings in the world. The way he manages to capture the paintings is incredible, and is combined well with is engaging narration. At the same time, I do think that Herzog tends to get overly existential in his documentaries, and more time could have been devoted to the historical realities of the inhabitants. He seems to linger quite a bit on parallels to cinema, which bogs down the film in parts. Still, very interesting and generally well done.
See Details