Cheech and Chong's Next Movie
(1980)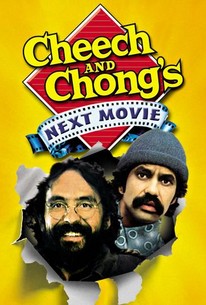 AUDIENCE SCORE
Critic Consensus: No consensus yet.
Cheech and Chong's Next Movie Photos
Movie Info
In an unfunny, scattered sequel to their successful Up in Smoke, Cheech Marin and Tommy Chong reprise their roles as carefree men who do inhale. But this time around Cheech is out of a job and trying to dodge his bilious neighbor while chasing the lovely Donna (Evelyn Guerrero) with anything but honorable intentions. Meanwhile, Cheech's cousin Red (also Cheech Marin) and Chong go tooling around Hollywood in a luxury sports car looking for adventure.
News & Interviews for Cheech and Chong's Next Movie
Audience Reviews for Cheech and Chong's Next Movie
½
Cheech & Chong's Next Movie is a classic stoner comedy that delivers good laughs. This is a must see film for Cheech & Chong fans. The film is a good comedy for what it is. The film is the perfect film to watch with friends and is mindless fun from start to finish. I enjoyed the film for what it was, and I think it's one of the duo's better films. If you love this type of humor, then check this film out. This film manages to bring on good laughs, but it's also a very silly/stupid type of humor. Sometimes, it's good to watch a mindless comedy like this. The acting is so-so, but there's an enjoyable quality about this film that makes it a must see for genre fans. Cheech & Chong have made some of the most memorable stoner flicks around, and this is the case with Cheech & Chong's Next Movie. The film is simplistic, but it also proves that you don't need an elaborate plot to create a funny comedy. I found this film to be a good enough film to watch with a good gang of friends. The film is quite underrated and if you love these types of comedies, then you'll enjoy this film. Although not as great or refined as The Big Lebowski, this film is still a classic of the stoner genre. Worth seeing if you're into these types of films. This film is a mindless, fun comedy definitely not meant to be taken seriously. This is good fun from start to finish, even if the film doesn't a consistent structure.
Not nearly as good as Up in Smoke but still pretty funny.
James Alvarez
Super Reviewer
Next movie is Cheech and Chong's next movie after the classic up in smoke. The film sort of has a plot about marijuana I think and a cameo from Pee Wee Herman. The only thing this film does is prove to everyone that Tommy Chong should never be allowed to direct. It's that much of a mess and should be a warning for any aspiring directors to just say no or this is the film you'll get.
Chris Garman
Super Reviewer
Cheech and Chong's Next Movie Quotes
There are no approved quotes yet for this movie.