Seung sing (Confession of Pain)
(2006)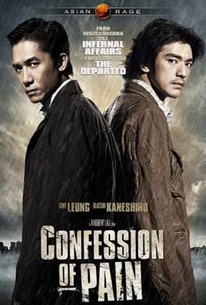 AUDIENCE SCORE
Critic Consensus: No consensus yet.
Movie Info
A detective investigates the death of his friend's father.
Critic Reviews for Seung sing (Confession of Pain)
Audience Reviews for Seung sing (Confession of Pain)
½
The Infernal Affairs directorial duo is back with another crime thriller, with heavy stars once more in the main cast. Directores Wai Keung Lau and Siu Fai Mak show a full control of the genre, using a fluid and tight camera movement, they manage once more to keep the audience glued to the screen. Unlike what many would think in a first view, the film is more about character motivations rather than twists. Both Tony Leung and Takeshi Kaneshiro give solid rock performances. Chapman To is fun to watch, as usual, and Shu Qi serves as great eye candy. All that said the film fells short in it's story, it starts quite interesting, then gets quite redundant, and when the final act comes it hardly has the impact the directors seem to have been trying to achieve. It's a very simple story, but told in an very unecessary convulted way. Ok and watchable, but very forgettable. Neverless, watch it before the upcoming hollywood-add-water-remake.
Tsubaki Sanjuro
Super Reviewer
½
A detective helps a friend investigate the mysterious death of her father Sadly Confession of Pain, is not what I thought it would be at all. For one thing, the story isn't very interesting nor is it orginal. However, Confessions have its strength that makes this movie watchable. Andrew and Alan pairs Tony and Takeshi as two leading actors, where both were reunited again after Wong Kar Wai's cult classic Chungking Express (1994). Tony and Takeshi did not have any crossover in Chungking Express, thus Confessions gives the duo a chance to see if there is any chemistry reaction. There is some chemistry there, that does make this watchable and interesting, sometimes, but it;s the only thing that really makes you watch. It?s no secret to some of my flixster friends, that I didn?t go much on Infernal Affairs, who had the same makers on Confession. I can not empathise what a disappointment this was for me. Mainly I watched it because it had Tony and Takeshi in it. It's surprising that the story decided to show its hand midway in the movie. While it doesn't exactly provide any definitive answers, by planting that seed of thought in you during its presentation. You're left wondering why, the rationale behind the actions, as well as the filmmakers' deliberate lack of effort of hiding the truth. Bong's character will bring you on that journey of discovery. However, audiences who have seen their fair share of crime stories, will find it pretty easy when figuring out the clues. For instance there?s no clear understanding , at times, that the narrative isn?t following in the linear way that you?re used to. I didn?t realise to the end of the movie that certain things happened because it was at the beginning of the dilm The editing and the parrarel editing at times, makes it pretty confusing to watch. There are many frames, that are skipped and in some of the scenes, and as I mentioned before there?s not clear ratinal as to what this character is doing. As for camera work, set design, sound, and editing, this movie feels more like a commercial than a feature film. The effect is to cheapen what otherwise might have been great and deep. The same goes for the acting, which seems to have been texted in. Which is a pity, because everything turned predictable towards the end of the movie narratively. However, stylistically, it is what assisted in keeping the attention on screen. The cinematography is brilliant, capturing moody loss effortlessly in its never ending night shots of the cloudy city, unappealing streets, and empty apartments was engaging to watch but nonetheless I?ve seen better in HK movies before. The diagetic music is, in some scences a little off putting and doesn?t quite fit with the scene. For instance having, let?s say happier music in a scene which is not happy-just doesn?t make sense at all. I?m sure you know what I mean, music in a film needs to fit with what what you?re watching on screen. Sadly there?s no evidence of that here. Overall, one of the more disappointing Asian films I?ve seen. Don?t let me put you off the film, as some of you may like it. It?s worth watching for Tony Leung and Takeshi and perhaps some scenery around HK, but nothing more. The plot isn?t very interesting and you don?t really care for the characters by the end of the film. Perhaps if I watched it again, I might change my mind.
Sarah Gaish
Super Reviewer
½
Fine Hong Kong mystery-murder film like the lost souls in a city of fallen angels, the cop, the private detective, and the killer are doing what they must.
Dean McKenna
Super Reviewer
Seung sing (Confession of Pain) Quotes
There are no approved quotes yet for this movie.