Crimes of the Future
(1970)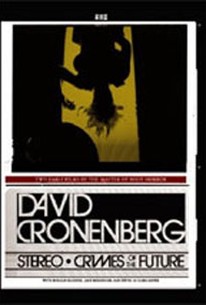 Movie Info
Fans of innovative Canadian filmmaker David Cronenberg will recognize the emergence of a his unique voice in this 1970 project, the director's second feature (following the 1969 Stereo). The bizarre premise introduces a dystopian future society in the wake of a devastating epidemic -- which killed off most of the adult female population thanks to a buildup of dangerous chemicals in cosmetics. Victims of this particularly gruesome affliction are marked by multicolored bodily secretions from every orifice -- which seem to produce an irresistible aphrodisiac effect on others. The majority of surviving females are pre-pubescent and frequently sought by creepy underground organizations of pedophiles. When one such group kidnaps a five-year-old girl, an agent from the Institute of Skin -- bearing the interesting moniker Adrian Tripod -- sets out to find her. Tripod drifts from one bizarre situation to another in his quest to find the girl, leading to several cerebral and frequently twisted episodes. ~ Cavett Binion, Rovi
Rating:
NR
Genre:
, , ,
Directed By:
Written By:
In Theaters:
Runtime:
Studio:
Criterion Pictures Corp.
Critic Reviews for Crimes of the Future
Audience Reviews for Crimes of the Future
½
Crimes of the Future (David Cronenberg, 1970) Going back into the obscure early works of a great, and distinctive, director can be instructive. And when a director is as distinctive as David Cronenberg, who seems to most of the world to have risen fully-formed with They Came from Within, this may be even more the case. For the body horror that was one of Cronenberg's major themes for the quarter-century between They Came from Within and eXistenZ was built slowly, over the course of the movies that came before, which very few have seen. They are far more available now than they were in the nineties, and Cronenberg fans would do well to avail themselves of the opportunity to see where it came from. This one in particular, perhaps; the working title of eXistenZ was, after all, Crimes of the Future. While I wouldn't exactly call what this movie has a plot, it centers around a doctor-maybe a psychatrist, but it's hard to tell-named Adrian Tripod (Ronald Mlodzik, who only ever appeared in Cronenberg productions; he can be found in Cronenberg's first two "mainstream" films, They Came from Within and Rabid), who takes an interest in certain strange cases to be found in Canada's future asylums. We know it's the future because in this Canada, most of the country's women have been killed off by a horrendous industrial accident (or was it?) that caused cosmetics to turn into caustic poisons. You can't make this stuff up. But, obviously, David Cronenberg can. While the movie is not explicit by any means, the seeds of most of Cronenberg's obsessions can be found here-the body horror (Tripod's first subject, for example, exudes a substance similar to chocolate that compels those who come into contact with it to desire nothing but eating it, a plot point that should be very familiar to those who saw Larry Cohen's The Stuff, released fifteen years after this), the sexual obsession (when there are so few women left in the world...), the works. It's an early film, almost a student film, and it shows in the ponderousness and disjointedness of some of this, but it's still worth watching for Cronenberg buffs. ** 1/2
Robert Beveridge
It was a little bit better than Stereo but it was also really similar to it. I found more to like in this one, for one the simple fact that there is more audio is a plus. There is a bit of a storyline here which helps things as well, while Stereo had less of one. It's an all together interesting piece of work and I'll always look at Stereo and Crimes of the Future as a couplet of films that taught David Cronenberg about film making.
Robert Alley
Only slightly more interesting than its predecessor, Cronenberg uses an identical protagonist to investigate an interesting topic with as little action as possible.
Bryan Way
Crimes of the Future Quotes
There are no approved quotes yet for this movie.