Cromartie High: The Movie (Sakigake!! Kuromati Kôkô: The Movie)
(2005)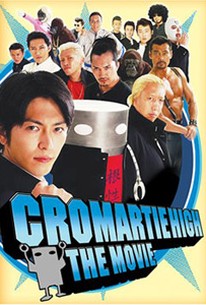 AUDIENCE SCORE
Critic Consensus: No consensus yet.
Movie Info
Prepare to meet with the toughest, dumbest, meanest, and strangest student body ever assembled as Takashi Kamiyama enrolls in Cromartie High to experience one of the most surreal semesters of his high school career. From thuggish gorillas to alien encounters and pencil-chomping students, the strangeness literally never ceases at the one school with a reputation that's truly wild. ~ Jason Buchanan, Rovi
Critic Reviews for Cromartie High: The Movie (Sakigake!! Kuromati Kôkô: The Movie)
There are no critic reviews yet for Cromartie High: The Movie (Sakigake!! Kuromati Kôkô: The Movie). Keep checking Rotten Tomatoes for updates!
Audience Reviews for Cromartie High: The Movie (Sakigake!! Kuromati Kôkô: The Movie)
½
Based on the manga/anime of the same name, and strangely enough, very faithfull to the source material. Why strange? because the source material is certainly not the type that gets so easily adapted. To put it simple, Cromartie High is a very unique spoof/parody/what-not of the whole yakuza/bad guys genre. All the main characters are the toughest of the toughest people you could ever meet, and yet we hardly see them fight or anything of the like. The movie makes fun of all the usual yakuza behaviours, the solemn way they refer to each other, and takes it a couple of steps further. You just can't say no to a series that has a gorilla, a robot in the shape of a coffee can and Freddie Mercury all hanging around in the same place.
Tsubaki Sanjuro
Super Reviewer
½
Ridiculously hilarious. Director Yudai Yamaguchi can pick his comedies and make them too. I didn't think he could make anything as ridiculous as Battlefield Baseball, but he proved me wrong with this ridiculous film. This film is ridiculous.
The plot of this film is ridiculous, if you can even call it a plot. But, it doesn't really matter because this movie is all about the ridiculous laughs. 80 minutes of comedy coming at you from all directions. Ridiculous characters, repetitive scenes with changed dialogue, apes, a robot that looks like a can, and ridiculously cheap CG is all you need for a good time with this film. This movie is way more over the top than Battlefield Baseball was, but I think the lack of plot is what makes this film a little less enjoyable than the previously mentioned title.
The acting in this film is as ridiculous, in a good way, as the characters. Especially, when you have actors that are noticeably above 20 years old playing characters of ages 15 and 16. Ridiculous. I was happy to see a small part from Tak Sakaguchi and it's just too bad that is all it was.
This movie is not to be taken seriously. Just sit back and get ready for a ridiculous 80 minutes of your life. How many times did I say ridiculous in this review? This review is ridiculous.
A very entertaining and bizarre series of connected vignettes. Light years ahead of Battlefield Baseball, which I found about as funny as brushing my teeth, this film manages to do what that one couldn't; be strange and surreal without seeming really forced. Though never "laugh out loud" hilarious, it is consistently funny and well worth watching.
Christopher Brown
Super Reviewer
Cromartie High: The Movie (Sakigake!! Kuromati Kôkô: The Movie) Quotes
There are no approved quotes yet for this movie.