Darkman II - The Return of Durant
(1994)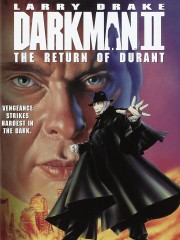 Darkman II - The Return of Durant Trailers & Photos
Movie Info
Darkman is up to his old tricks. He's robbing from the criminals and keeping for himself so he can further perfect his synthetic skin which dissolves after 99 minutes in the light. His old arch-nemesis, Robert Durrant (Larry Drake) returns, having survived the helicopter crash in the first film. Durant attempts to rebuild his crumbling empire by devising a new particle gun to sell on the market. After Durant kills a young scientist for his warehouse, Darkman goes on a rampage, vowing to destroy Durant once and for all. Darkman concocts masks of his enemies and infiltrates Durant's gang, turning everyone on themselves. This sequel is above the typical direct-to-video quality and director May has captured Raimi's comic-book style, but the energy that propelled the original is sorely missing here. Welcome back is Drake who once again astonishes with a gleefully maniacal performance, rightfully stealing the show. Replacing the title character is Arnold Vosloo, who coolly plays Darkman without the enraged melodramatics Liam Neeson brought to his portrayal of the tormented hero. This sequel was actually filmed after Darkman III: Die, Darkman, Die but was released on video first despite the fact that Universal thought it looked good enough to release into theaters. ~ Sean D. MacLaggan, Rovi
more
Cast
News & Interviews for Darkman II - The Return of Durant
Critic Reviews for Darkman II - The Return of Durant
Audience Reviews for Darkman II - The Return of Durant
Dean McKenna
Super Reviewer
What change the actor in a Super Hero Movie, well it happen in Batman, Superman, now in Darkman, But I ask you is Darkman really a Super Hero. Anyway we have a new Darkman, but I don't understand why they didn't just put in the movie that Darkman whipped himself up a new and better face. And my favorite Villain Larry Drake rose from the dead, he had to no one survives a helicopter crash that hits a bridge and explodes, but we see him come back to life out of a coma, and after that fiery crash, what no burns. am I to believe that, it would have played much better if he was burned and went after Darkmans formula, Right about now the director is saying hey why didn't I think of that. Anyway I'm glad I got the Darkman Trilogy for $9.99 which is about $5.00 to much, I pity the fool that seen this on the big screen when it came out. More like made for TV, but with the action it just makes 3 stars, Its in my collection but only because its a freebie. I can only hope Darkman 3 is better.
Bruce Bruce
Super Reviewer
"Aren't you the pretty one?"

Darkman 2: The Return of Durant starts out with the ludicrous request that we all believe crime boss Durant could have survived that massive helicopter crash at the end of the first film. Incredibly, the almighty Robert G. Durant awakes from a three year coma to take control of his territory, and seems to be having a good time doing it.
Peyton Westlake (played by the Mummy's Arnold Vosloo) meets another scientist, David Brinkman, working on the same formula for synthetic skin that he has been trying to figure out, and Brinkman has made huge improvements. Brinkman proposes a partnership, which Westlake eagerly accepts. Sadly, Brinkman happens to live in a huge warehouse that Durant wants to buy because it is the ideal factory to construct illegal weapons, but Brinkman doesn't want to sell. The expected 'convincing' ends in Brinkman's death, and Westlake has to suffer through the loss of another partner. Kim Delaney plays a tenacious reporter, too bad her stint here is so brief.
Darkman II - The Return of Durant Quotes
Dr. Alfred Hathaway: So... what am I doing here Robert? You didn't go through all the trouble of breaking me out to feed me a home cooked meal.
Robert G. Durant: Well there aren't many scientist with your vision... your technical expertise.
Dr. Alfred Hathaway: What you mean is there aren't many men, who could build a hydrogen bomb in their garage!
Discussion Forum
Discuss Darkman II - The Return of Durant on our Movie forum!
News & Features