Decasia
(2002)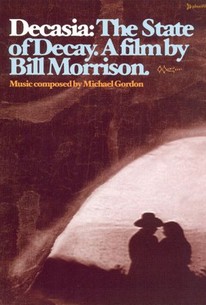 Movie Info
Experimental filmmaker Bill Morrison created this non-narrative feature, which derives a large portion of its visual beauty from the physical nature of the film medium itself. Decasia is primarily compiled from a wealth of old and damaged footage, in which the scratches, scraped emulsion, bubbles, streaks, and decaying nitrate add an extra dimension of texture to a patchwork of images both extraordinary and mundane. Originally created as part of a multimedia environmental performance piece, with the film screened in tandem with a performance by a 55-piece ensemble, Decasia has also been screened in a version with recorded score, composed by avant garde percussionist Michael Gordon. Decasia was screened at the 2002 Sundance Film Festival.
Critic Reviews for Decasia
Audience Reviews for Decasia
Decasia is an interesting concept. Take a large batch of decayed film and play it with all the phantoms created through time with appropriate music. The music chosen however doesn't change substantially throughout the production and as a result, you get repetition and boredom. It's kind of like an art gallery exhibit that you find fascinating..for two minutes.
John Ballantine
Super Reviewer
This film is much more interesting to read about than to actually sit through. At best, one might process it as sort of a Koyaaniqatsi-like head flick, where a montage of disconnected, slow-motion clips is accompanied with a minimalist score. But the score (composed by Bang on a Can's Michael Gordon, channeling Philip Glass and Glenn Branca) is just ugly and nagging, and a high-concept film like this really needs seductive music to sustain its momentum. Even at a mere 70 minutes, the film still felt too long.
Eric Broome
Super Reviewer
Decasia Quotes
There are no approved quotes yet for this movie.