Drums of Jeopardy (Mark of Terror)
(1931)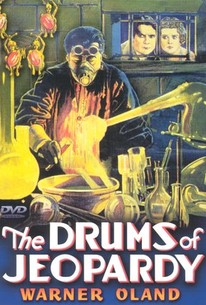 AUDIENCE SCORE
Critic Consensus: No consensus yet.
Drums of Jeopardy (Mark of Terror) Photos
Movie Info
In this melodrama, Warner Oland plays a mad scientist who seeks revenge on the aristocratic family responsible for the death of his daughter. He travels from Russia to New York in search of any and all descendants of the hated Petroff family, using four rubies as instruments of death.
Rating:
NR
Genre:
, , ,
Directed By:
Written By:
In Theaters:
On DVD:
Runtime:
Studio:
Tiffany
Audience Reviews for Drums of Jeopardy (Mark of Terror)
½
When one of the men of the Petrov family makes his daugher pregnant, dumps her, and causes her to commit suicide, but then won't own up to his misdeed, Dr. Boris Karlov (Oland) sets out to gain revenge by seeing them all dead. He persues them halfway around the world, to America, where a secret service agent (Hamilton) and a feisty young American woman (Collyer) end up in the middle of this Russian struggle for survival and revenge. "Drums of Jeopardy" is a nifty little thriller from the early takes of talkies that's jam-packed with meldodrama, action, and humor. Its fast-paced script hardly gives the viewers a chance to realize that just about everything in this film has become almost painfully cliche in the nearly eighty years since its original release, nor does it pause long enough to really let us consider how outrageous and dimwitted the "brilliant" plan of the Federal Agents who match wits with Karlov is. We're too busy hating the slimy Russian nobleman Prince Gregor (Wallace MacDonald) who not only impregnated and dumped a poor girl, refuses to live up to what he's done and ultimately tries to sell out everyone else to save his own skin; admiring the beauty of the resourceful young Kitty Connover (June Collyer), snickering at the comic relief provided by her sharp-tongued aunt (Clara Blandick in one of her best roles), and grinning with sinister glee as Dr. Karlov delivers zingers and pulls tricks on the good guys that allows him to take a place among the great villains of movie history 's zingers as his evil plans fall into place (an honor deserved in no small part due to an excellent performance by character actor Warner Oland who is best remembered or playing Charlie Chan and for his role in "Werewolf of London"). Another remarkable aspect of this film that sets it apart from many of its contemporaries is that it has a villain that the viewer can relate to. His daughter [i]was[/i] violated and tossed aside by the Petrovs, so, given that this is a melodramatic thriller and we're talking about Russians here, it's only natural he'd take elaborate and final revenge against not only the Petrovs but Russian nobility in general. Karlov is a character who is almost like a tragic hero in his stature within this film and he is must more interesting than most film villains from the early days of film. I should note that as much as I enjoyed this film, I was a little dissapointed in some apsects of how the story unfolded. I've already commented on the moronic nature of the government agents in the film, but a bigger dissapointment was that Karlov didn't really get his full revenge and we don't get to see that rat bastard Gregor die a slow and painful death. (That alone makes me wish for a remake of this movie. I'd love to see Tim Thomerson as Karlov!) Speaking of Karlov... yes, the villain of this movie is named Boris Karlov. Given that this film is based on an American novel that was originally published in 1920, I think we can chalk this up to one of those weird coincidences. Karloff was an obscure stage actor touring Canadian backwaters at the time the book was written. "The Drums of Jeopardy" is one of those forgotten, almost lost classics that's been saved and preserved by advent of the DVD. It's a film that definately deserves to be seen, and I think Alpha Video has done us a real service by making it available. It's worth looking past the imperfections of the old print in order to experience it. The film is available from Amazon.com for $8, less than what a movie ticket costs. And, frankly, it's actually a better film than some of the crap you'd see in the theaters. You can read more reviews of it at Amazon, so you don't just have to take my word for it. [URL=http://www.amazon.com/gp/product/B0002HODNQ?ie=UTF8&tag=stevemillesdo-20&linkCode=as2&camp=1789&creative=9325&creativeASIN=B0002HODNQ]Click here[/URL] to check out the listing. The Drums of Jeopardy Starring: Warner Oland, June Collyer, Lloyd Hughes, Hale Hamilton, Wallace MacDonald, Clara Blandick, Mischa Auer, Ernest Hilliard, and Florence Lake Director: George B. Seitz
Steve Miller
Drums of Jeopardy (Mark of Terror) Quotes
There are no approved quotes yet for this movie.
Discussion Forum
Discuss Drums of Jeopardy (Mark of Terror) on our Movie forum!