Elling
(2002)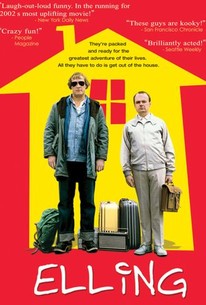 Movie Info
When his mother, who has sheltered him his entire 40 years, dies, Elling, a sensitive, would-be poet, is sent to live in a state institution. There he meets Kjell Bjarne, a gentle giant and female-obsessed virgin in his 40s. After two years, the men are released and provided with a state-funded apartment and stipend with the hope they will be able to live on their own. Initially, the simple act of going around the corner for groceries is a challenge. Through a friendship born of desperate dependence, the skittish Elling and the boisterous, would-be lover of women, Kjell Bjarne, discover they can not only survive on the outside, they can thrive. But as their courage grows, the two find oddball ways to cope with society, striking up the most peculiar friendships in the most unlikely places.
Critic Reviews for Elling
Audience Reviews for Elling
I went to see the stage production based on this Norwegian film in London in 2007 and due to my enjoyment, I bought the film. Per Christian Ellefsen stars as Elling, a man recently released from a state institution. He is shy, neurotic, obsessively neat and tidy, agoraphobic and is unable to operate in the real world as his mother handled all of his decision making processes for the first 40 years of his life. As part of his release into the community, he is required to share a state funded apartment with fellow released patient, Kjell Bjarne, portrayed by Sven Nordin. Kjell Bjarne is the total opposite loud mouthed and foul mouthed, scruffy and sex obsessed. If he isn't thinking about sex, he's talking to Elling about sex and if he isn't talking to Elling about sex, he is running up phone sex bills of 4000 Krone. The conditions of their release are seemingly simple, they must prove to their social worker that they can operate as normal members of society or they lose the apartment, but when going to the grocery store to shop is a major challenge how can they meet their release conditions? Through two chance meetings, Elling with poet and author Alfons Jorgensen (Per Christensen) and Kjell Bjarn's meeting and subsequent romance with pregnant neighbour Reidun Nordsletten (Marit Pia Jacobsen), the pair look to unconventional methods to cope with the society that is unleashed on their existence. As this is a foreign language film, you are reliant on the subtitles. However, you can see from Ellefsen's and Nordin's performances that this is your basic "odd couple" storyline. Ellefsen's portrayal is that of small compact spring - a bundle of nervous energy which looks to take up as little screen film as possible. Elling's voice is that for the majority of the film as you hear his opinions of his relationship with Kjell Bjarne and of life in general. As befitting a man with a large personality, the portrayal of Kjell Bjarne is a big bear of a character, when he's loud he's very loud. When he swears or talks about sex it's for all the world to hear. This is a darkly comic script which deals with life problems. However, the script never mocks the issue of mental health and you laugh with Elling and Kjell Bjarn and not mockingly at them. Whilst this is a film that won't change your life and delivers quiet chuckles rather than belly laughs, please seek this out in your home entertainment store to rent. You may be pleasantly surprised.
Theta Sigma
Super Reviewer
I am really amazed at how much I liked this movie. At first I had my doubts, but then I just found myself unable to turn it off. These two guys were a hoot! I like how it all turned out. Very nice.
Cynthia S.
Super Reviewer
Touching and delightful! Two middle-aged, mentally challenged men team up to live as roommates in urban Oslo. Somehow , their odd, symbiotic relationship allows them to cope with the day-to-day challenges of independent living. Even though their methods might be peculiar, the results are frequently hilarious and sometimes inspirational. Thank you Norway for this wonderful gem of a film.
Randy Tippy
Super Reviewer
Elling Quotes
There are no approved quotes yet for this movie.