Erased
(2013)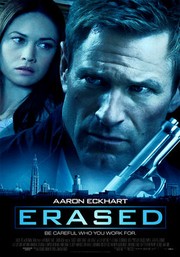 TOMATOMETER
AUDIENCE SCORE
Critic Consensus: Derivative to a fault, Erased squanders some nifty potential and its talented cast in a bland retelling of a story action fans have seen too many times before.
Erased Trailers & Photos
Movie Info
When ex-CIA agent Ben Logan (Eckhart) discovers that he and his daughter have been marked for termination as part of a wide-reaching international conspiracy, a dangerous game of cat-and-mouse ensues as Logan tries to outsmart his hunters and uncover the truth. (c) Radius TWC
more
Cast
News & Interviews for Erased
Critic Reviews for Erased
Audience Reviews for Erased
½
A smart, swift, confident and intelligent piece of popcorn action movie entertainment. A thinking-man's thriller with charisma and well-done elements that make it terrifically entertaining. It's a sharpened combo of Taken meets Bourne. Aaron Eckhart is fantastic, he adds the right amount of intensity, emotion and even a little bit of heart. A sharp, heart-pounding and frequently gripping edge of your seat thrill-ride that's filled with gripping suspense and exciting action from start to finish.
The last time I saw Aaron Eckhart in a movie was The Dark Knight with a memorable performance as Two-Face and since then I have not heard nor seen give him in anything. Though if this movie is any indication on Eckhart career is that he hasn't done anything worth checking out since then.

The Expatriate is about an ex-CIA agent and his estranged daughter who are forced on the run when his employers mark them both for termination as part of a wide-reaching international conspiracy. The plot mainly suffers from heading into familiar territory that other spy thrillers already explore without any good original ideas. The few good moments that this film has are burrowed from superior films like The Bourne series. The daughter character can get annoying time and it's not actress Liana Liberato fault she gets on your nerves, she just got a very poorly written character. The plot is somewhat interesting when we get to learn about our characters past and despite it plot not being thrilling for a second it wasn't a pain to watch. At least the father and daughter relationship was interesting to see which helps drive the film forward since the spy plot here is in the "been there, done that" category. The plot is unoriginal, but it did have some interesting aspects about it that didn't completely boring.

The acting in this film is stiff from our too leads. Eckhart shows little effort in his part to convince us that he's this ex-CIA agent and not once did I believe him in his role. He stutters most his lines making it more difficult to understand what he is saying. Unlike other actors who played secret agents like Liam Neeson and Matt Damon, Araon Eckhart (he only kills two with his bare hands) is not allowed to kill many people chasing him down due to low budget. Liana Liberato is a bit better in the acting department, but her character will get annoying times. Though for some odd reasons she looks exactly like one of exes from my high school years. Despite our two lead stiff performance their chemistry is very believable. The supporting cast don't fare out any better, but some of them at least tried to put some effort in their performances. The cinematography is good here and you could tell the director tried to do his best with what was given to him. He does make the best of the action scenes despite their obviously low budget to make decent looking and despite the plot lacking thrills the director does show he cared in telling a story.

The Expatriate is too familiar to separate itself from other spy thrillers and despite a good effort in it direction it's not thrilling in any way. If you haven't seen many spy thrillers this might give your money worth, but for the rest of us it's just better to watch the spy films this burrows from.
Caesar Mendez
Super Reviewer
Erased Quotes
Marty Braymer: He's just an engineer.
Anna Brandt: CIA Black Ops, you idiot. We don't make engineers.
Ben Logan: Remember...
Amy Logan: Corners are safe.
Discussion Forum
Discuss Erased on our Movie forum!
News & Features