Firewalker
(1986)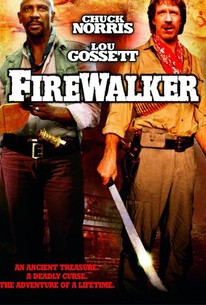 Movie Info
When Patricia Goodwyn (Melody Anderson) gets her hands on a map leading to an ancient treasure in Central America, she hires fortune hunters Max Donigan (Chuck Norris) and Leo Porter (Louis Gossett, Jr.) to help her retrieve it.
Rating:
PG
Genre:
,
Directed By:
Written By:
In Theaters:
On DVD:
Runtime:
Studio:
Media Home Entertainment
Critic Reviews for Firewalker
Audience Reviews for Firewalker
Lone Wolf McQuade and Lou Gossett Jr travel through the jungles of Central America looking for a treasure after being hired by a woman who came across an ancient map. I had remembered this one from my childhood in a much better light than it shows itself now. Even the best scene (in the bar, when it's Chuck vs. dozens of Mestizos) didn't hold up despite my very favourable memory. For fans of Remo Williams, Jake Speed, Jungle Raiders, The Further Adventures of Tennessee Buck, etc.
D M
Chuck Norris and Lou Gossett, Jr. go on an Indiana Jones style treasure hunt through the jungle. You read that correctly. Not a good movie, but the premise, nostalgia, and cheese make it worth the viewing.
Ryan Voss
½
In the inappropriately-titled Firewalker, Chuck Norris plays Max Donigan, a thrill-seeking adventurer who gets into all sorts of wacky, uncompromising positions alongside best buddy Louis Gosset Jr. (easily the best thing about this movie). After nearly meeting their end, the two celebrate the end of another adventure with a new one when they come across rich weirdo Melody Anderson (one of this movie's biggest demises) who talks them into a treasure hunt that leads them through South America and into plenty of trouble, most notably through conflicts with natives, Indian and Spanish. The "Firewalker" reference comes from bad guy, Sonny Landham (horribly misused in this film) whose been following the trio throughout the entire movie in order to make a sacrifice and become the Firewalker, which comes to be discussed throughout the film enough to amass maybe 3-4 minutes of this film's entire run-time, making the title of this movie very illogical and moronic. Some supporting roles from the likes of Will Sampson (Poltergeist 2) and John Rhys Davies (Lord of the Rings) help the movie somewhat, but not enough. What surprises me the most is the mis-fired direction of J. Lee Thompson, who usually does stellar films (Happy Birthday to Me, Death Wish 4). The ultimate result was a rip-off of Indiana Jones with bad acting and many confusing elements to a half-assed plot. As far as corny, fun action, Norris isn't too bad, but his attempts to try and play a different kind of hero for a change were a major mis-fire.
Jason Duron
Discussion Forum
Discuss Firewalker on our Movie forum!