For Love of Ivy
(1968)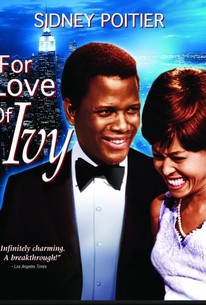 Movie Info
Jack Parks (Sidney Poitier) is a drifting gambler who runs a floating crap game from the back of a truck. Ivy Moore (Abby Lincoln) is the maid for the Austin family who is being driven crazy by her employers, in particular the mother Gena (Lauri Peters). Jack is approached by the two teenage Austin children (Beau Bridges and Nan Martin), who try to play Cupid and bring Ivy together with the life long bachelor. The two kids dearly love Ivy and hope that a romance will keep her in the family's employment. Carol O'Conner plays the role of their father. Ivy and Jack, although from very different backgrounds, manage to hit it off just fine and contemplate marriage in this light romantic comedy. The story comes from Poitier, with the screenplay by Robert Alan Aurthur. Soundtrack provided by Quincy Jones.
Rating:
G
Genre:
, , , ,
Directed By:
Written By:
In Theaters:
On DVD:
Runtime:
Studio:
Cinerama
Critic Reviews for For Love of Ivy
Audience Reviews for For Love of Ivy
I 've seen this movie at least a hundred times, and it never seems to bore me. I love the interaction between the characters, Ivy(Abby Lincoln) and Jack (Sidney Poitier). Oddly enough during the filming of this movie, sparks were flying between these two, so much so that Mr. Poitier proposed to Ms. Lincoln after the film was finished. They lived together for a while, then for one reason or another separated for while. Entered Ms. Diane Carroll who came on the scene and that was as we say was the end of any hope of reconcilliation between Lincoln and Poitier. Sidney and Diane did a broadway play of Porky and Bess which was later put on film and directed by Otto Priminger. The Leading role of Bess was played by none other then Dorthy Dandridge...who Sidney also fell in love with, but to his own failings, because of the more than hot and torrid affair between Dandridge and Priminger whom she bore a child for. The couple never married, due to the racial climate of the times, but their child was born with a rare disease and required to be institutionalized for some time. After Dandridge 's death, Priminger collected his daughter from the institution and move back to Germany, where he and she lived until his death. Oddly enough he said how much she remined him of Dorothy, in that she looked exactly like her mother. No one ever heard anything of her again. I love Sidney Poitier as an actor, I have several of his films...Blackboard Jungle, Guess Who's Coming To Dinner, A Patch of Blue, To Sir with Love, The Jackal, Buck and the Preacher, The Long Ships, A Raisin in the Sun, They Call Me Mr. Tibbs, A Piece of the Action, Uptown Saturday Night, Lillies of the Field, In the Heat of the Night, Pressure Point, No Way Out, Sneakers, The Definant Ones, The Bedford Incident, The Mark of the Hawk, The Organization, The Wilby Conspirarcy, The Secret Life of Noah Dearborn, The Greatest Story Ever Told, and last but not least The Last Brickmaker in America. Yeah....I guess you couild say that I'm a Sidney Poitier fan...Gotta Love Him. If any of you get the chance please rent some of these vintage films you will not be disappointed in any of them. They are true treasures and eventhough most of the supporting actors/actresses or no longer with us...this was truly an era of great film noir. Enjoy!
Carolyn Perkins
Poitier's always a pleasure to watch, even when the story surrounding him isn't exactly captivating.
Lee Mayo
For Love of Ivy Quotes
There are no approved quotes yet for this movie.
Discussion Forum
Discuss For Love of Ivy on our Movie forum!