Game Over, Man!
(2018)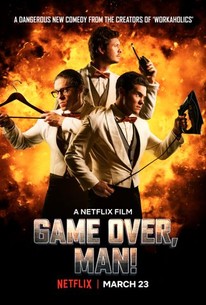 Movie Info
During a star-studded Los Angeles party, three zeroes become heroes (sort of) when the hotel they work at is taken hostage by bad guys. From the creators of Workaholics, this action comedy comes locked and super loaded on March 23.
News & Interviews for Game Over, Man!
Critic Reviews for Game Over, Man!
Audience Reviews for Game Over, Man!
Our favorite Workaholics have moved on from the small screen over the last two years since the series wasn't renewed. Adam DeVine, Anders Holm, and Blake Anderson used Game Over, Man to reprise these characters (albeit in a slightly deviated version) for one last time on the big screen. What's fun is it gives fans like us a chance to see these three knobs run around in a different setting instead of an office, but to also wish them a solid farewell should they never reprise them again. Game Over, Man isn't new or smart or engrossing, but it is stupid, funny, and ridiculous. Right down our most trusted trio's alley. The movie is a clear satire of Die Hard right down to mimicking characters specifically in line with Die Hard's. Neal McDonough steps in for Alan Rickman. Sam Richardson is the overtly confident black IT hacker. The parallels are unmistakable. But where this movie really goes off the hinges is the side actors. You've got Steve Howey (from Shameless) as a gay but thoughtful murdering henchmen. Aya Cash as a 'yes' woman to her boss Daniel Stern (from Home Alone fame) as a big swinging owner of the hotel. Everyone is just so outrageous with their characters that you cannot help but be miffed at how silly everything is. I'm not sure this falls under the stoner movie category as much as it does the parody action film category, but it should still satiate anyone looking to blindly pop on Netflix to pass an hour and a half. Most Workaholics fans will see this, if not all, thanks to the direction from Kyle Newacheck (Karl). Keeping the gang together is really the most important virtue.
Lane Zieben
Super Reviewer
½
I'd much rather watch any randomised episode of Workaholics, where the budgets may be smaller, but at least every now and then a joke will land.
Comedy really is the most subjective film genre out there. What I mean by that is what's funny to me might not be funny to you and so on and so forth. So a film that gets negative reviews, like almost every Adam Sandler film in existence, might end up being beloved by the audience that watches it. And vice versa, a critically beloved movie may be hated by the audience. Whether you enjoy a particular comedy or not depends entirely on your tastes and what tickles your funny bone. You can't have this same debate about horror. A horror movie is still a horror movie, regardless of whether one finds it scary or not. I, for one, don't find any horror movies scary, that doesn't detract from the genre they're supposed to belong to though. I guess you could say the same for comedy, but the debate is a little more acceptable here than it is with any other film genre. Having said all of that, I bring this up because reaction to this movie has been...mixed, to say the least. Some hated it calling it crude and vulgar, which is very much on point. And others loved the movie, criticizing the negative reaction as part of PC culture (this is on RottenTomatoes, where plenty of idiots, sadly, roam), which is about the stupidest thing I've ever heard. Apparently you have to enjoy all vulgar movies or, if you don't, you're trying to censor others' art. I really read this. Sheer idiocy. Because apparently people can't dislike a movie without it being a political statement. Stupid. Anyway, having said that, as far as my thoughts on this movie go, I think I fall somewhere in the middle. Maybe I was just in a good mood, but I legitimately enjoyed this movie. It's obviously meant as a tribute to Die Hard, if Die Hard was made by 13-year-old boys. I haven't seen an episode of Workaholics, whether that's good or bad I simply do not know, but I know enough to know that the humor that show displayed is very similar to the humor on display in this movie. Perhaps it's even more explicit, given the fact that there's no real worry about censorship. I mean I'm sure they had to tone some stuff down but, by and large, Blake Anderson, Anders Holm and Adam DeVine are given the freedom to do, pretty much, whatever they want. When people said that this movie is crude and vulgar, they were not lying. Case in point, I saw more of Adam DeVine than I ever needed (and wanted) to seen. His flapping dong is on display more than they probably would have ever been allowed to show if this was under MPAA supervision. I'm pretty certain I also got a look at the guy's asshole. That's not even the most grotesque part of the movie, let's not even get into the scene where the Bey of Tunisia is made to eat a fat guy's...sphincter in front of all of the other hostages. This is definitely the worst offender in the entire movie. Conceptually, I get it. The villain is trying to humiliate the Bey by making him do this, but he's not even embarrassed. The hostages, and even the guy on the receiving end, start to enjoy what they're seeing. I thought that part of it was funny. Everything else, I mean the scene is pretty graphic in that they don't shy away from the Bey burying his face in this guy's ass. It's obviously all CG, but they don't shy away. This scene just felt way too forced, honestly. While it certainly fits in with the humor for the rest of the film, it just feels like they were trying to look for another way to shock you, as if they hadn't done enough. And this was the wildest, craziest thing they could do. Honestly, the scene doesn't really even serve any purpose to the overall narrative. It's just there as a sketch completely disconnected from the rest of the movie. And perhaps that's the worst part about it. It just feels like a sketch added on to ramp up the raunchiness, not because the movie needed it. And I know I'm analyzing what, realistically speaking, is a very stupid movie at its core, purposely so, but it's still worth pointing out. With a movie that's very reliant on shtick and raunchy comedy, they literally throw everything they can out there. Movies like this, for the most part, end up feeling very inconsistent and this is no different. There's jokes that fall flat. Like Alexxx wanting to be an owl so he can fly away majestically. Oh and the whole drawing dicks on the faces of people who are passed out is such a tired thing. Not even just in movies, just in life in general. This is an old joke used by immature frat boys who have nothing better to do. Having said that, yes the nature of these movies are that they may end up being hit and miss, but at least I felt like the guys were making somewhat of an effort. I saw one of the negative reviews on RottenTomatoes that said that this movie makes Adam Sandler look like Orson Welles and this guy could just not be further from the truth. Sandler admitted that his movies are just paid vacations, meaning that he actively refuses to put any effort in making his Happy Madison films anything worth anybody's time. Yes, you may end up hating this film and I know plenty of people did, but to say that the humor is somehow worse than a guy who doesn't even try is a wrong opinion. Just a wrong opinion on every level imaginable. The story is predictable, three housekeepers attempt to save a day after the villain takes 106 people hostage at the hotel they work at. There's the usual bromantic tension between the three and their own individual stories. Like Alexxx feeling left out of their Skintendo project after it's revealed that Baby Dunc and Darren have been working on the project without him for years, since he has terrible ideas. Dunc deals with his own difficulty at coming out of the closet, even though his friends already know. You could argue that this is filler, but I think it works in the long run. It's not like it's great, but it gives the guys something to do past just make dick jokes. I will say that the Skintendo suit is used to very entertaining effect in the third act. If I was the one that laughed at that, and I doubt I was, then sue me, but I liked it. Adam DeVine, Blake Anderson and Anders Holm are very good together, they're clearly friends and that helps this movie so much in the long run. Their chemistry is easy and fun to watch. I don't know what else I can say about this movie, I'm sort of glad that I did watch it in a vacuum. At the time I watched this, I hadn't seen/read any reviews (which I rarely do anyway) past seeing the audience score on the Flixster app on my phone. I think that may have given me a perception of the film that would affected my objectivity. And, if I'm being a fair man to this movie and to myself, I enjoyed myself quite a bit. I'm not gonna give this a recommendation one way or the other, since it's gonna be one of those divisive comedies, but I enjoyed my time with it. It's inconsistent as hell, but, for my liking, there's more hits than misses here. Nothing else to say, watch at your own risk. I liked this movie and that's all that matters to me.
Jesse Ortega
Super Reviewer
Game Over, Man! Quotes
There are no approved quotes yet for this movie.