The Good Son
(1993)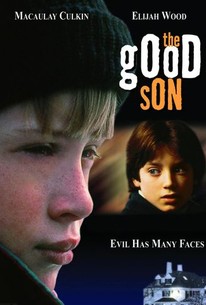 Movie Info
Macaulay Culkin tries for a change of pace playing a schoolyard psychotic in The Good Son. When 12-year-old son Mark (Elijah Wood) is his mother's side as she's dying of cancer, she makes him promise her that she won't die. When she does die, Mark is consumed with grief, as well as guilt that he couldn't keep his promise. Mark's father Jack (David Morse) has to go away for a two week business trip to Tokyo shortly after his wife's death. Thinking that the blustery Maine environment will do him good, he drops Mark off with the family of his Uncle Wallace (Daniel High Kelly). At first, Mark is withdrawn, but soon he begins to warm to his Aunt Susan (Wendy Crewson), his cousin Connie (Quinn Culkin), and particularly his cousin Henry (Macauley Culkin). Mark and Henry pal around together, but Mark begins to notice some of Henry's ideas of fun differ significantly from his own. For example, Henry demonstrates his homemade crossbow by killing the neighbor's dog, and shows Mark his dummy (called "Mr. Highway") that he drops from an overpass onto a highway, causing a 10-car pileup. Mark begins to suspect that the death of Henry's baby brother wasn't an accident, and it appears Henry is now making plans to rub out his sister. But when Mark tries to warn Henry's parents of their son's homicidal tendencies, they refuse to listen to him. ~ Paul Brenner, Rovi
People Who Like this movie also like
Critic Reviews for The Good Son
Audience Reviews for The Good Son
½
Macaulay Culkin is really a good actor. This movie was really good.
Dead Angel
Super Reviewer
½
Macaulay Culkin is creepy
Jeremy Smith
Super Reviewer
This was a great performance piece for Elijah Wood and Macaulay Culkin. They were both extremely well polished and realistic. The story is convincing and effective mainly due to their performances. The plot is very creepy and a well done child horror.
Conner Rainwater
Super Reviewer