Goon
(2012)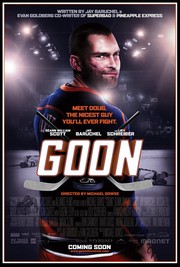 Goon Trailers & Photos
Movie Info
Not content with his job as a bouncer at a local Beantown bar and a bit of an embarrassment to his accomplished family, Doug Glatt (Seann William Scott) dreams of the kind of success enjoyed by minor league hockey goon Ross Rhea (Liev Schreiber). When a chance encounter with an on-ice thug leads to a bloody fist fight that Doug easily wins, the coach of the Halifax Highlanders sees potential in this mammoth sized man who is only hampered by his lack of any hockey playing ability and his brother's old figure skates. Standing up to the taunts of the other players, Doug manages to join the team, and with the encouragement of his hockey obsessed best friend (Jay Baruchel) quickly becomes a rising star. Soon he'll have the opportunity to face off against Ross "The Boss" Rhea and perhaps finally land a girlfriend. Now - all he needs is to learn how to skate. -- (C) Magnolia
more
Cast
News & Interviews for Goon
Critic Reviews for Goon
Audience Reviews for Goon
I'm sure the story of this film is pretty good, but I could not get through the first quarter because of the copious amount of swearing. I'm pretty open-minded when it comes to stuff like that and I don't recall ever not finishing a film, but this was so over the top it was distracting to the point of annoyance.
A very simple, and yet beautiful film, about the life of Doug Glatt (William Scott), a bouncer turned hockey enforcer. It remains very sweet as it follows the even tempered and quite friendly Doug while he gratefully takes on the role of enforcer, or hockey fighter, in the minor leagues. The first great thing about this film is that it has some of the bloodiest fights ever seen, and they're all fun to watch because they come from a place of spectator sport and not filthy bloodlust. To say that they're one and the same is subjective, but when it comes to this film they're separated easily enough. What's also interesting seems to be the character that is Doug. While obviously not human in his retention of pain and misunderstanding from everyone around him, he was likable, even lovable. I will say it, I love the character of Doug Glatt, a man who sees the best in everyone and remains humble and loyal. That and the film is just downright entertaining. From the romantic relationship between Glatt and Eva (Pill), to his friendship with the epithet screaming Pat (Baruchel), to his strange rivalry with Ross Rhea (Schreiber), every relationship in this film entertains. The characters are interesting, the sports scenes actually build tension for the forthcoming final game, and some of these shots are just priceless. Especially when it comes to the fight scenes. They are unapologetically bloody, not at all over exaggerated, and feel very real and yet didn't have the same glory attributed to them in the real world. There's definitely a lack of glory, and clarification of what it means to be a hockey hero or someone who protects their team from hateful rivals. It was also great to find out that Doug was a real person in the credits where they showed some of his real hockey fights. They look as gruesome as the film, which lends even further to the film's realism.
Goon Quotes
Eva: You make me want to stop sleeping with a bunch of guys.
Doug Glatt: That's the nicest thing anyone's ever said to me.
Doug Glatt: 69! Take the number 69. It's hilarious.
Doug Glatt: I think I nailed him.
Ronnie Hortense: Good skills. Too bad those are your own guys you just fucked up.
Doug Glatt: Oh sorry.
Ronnie Hortense: On the bright side. Those were your own guys you just fucked up.
Discussion Forum
Discuss Goon on our Movie forum!
News & Features