Growth
(2009)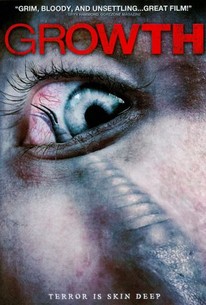 AUDIENCE SCORE
Critic Consensus: No consensus yet.
Movie Info
Twenty years after a mysterious outbreak claimed the lives of everyone at the Advanced Parasitic Development at the Cuttyhunk Island Research Facility as well as most of the civilian population on the island, a woman who managed to narrowly escape infection discovers that the bug is much more resilient than scientists previously gave it credit for when she returns home to sell her parent's abandoned property. Now the parasites have evolved, and they can slip into any human orifice impossibly fast. If they manage to find a human host to carry them out of the danger zone, there's no telling how long it would take before the infection starts to spread all across the planet.
Critic Reviews for Growth
There are no critic reviews yet for Growth. Keep checking Rotten Tomatoes for updates!
Audience Reviews for Growth
½
I've had viruses that kill you plenty of times before, and a couple that make you become a super-human, but from memory I think this is the first encounter I've had with both at the same time. Watching this movie from beginning to end just made me think about movies like Slither, Splinter and Shiver (recurring theme much?) who have all done this thing before, only... Well, you know, good? There were way to many bad guys antagonists, and the main characters were all just boring and annoying people to be around. At least when Justin Roberts became infected (above) he became a little bit interesting (if incredibly cheesy). I really can't see any reason why this movie needed to be released? It's entirely possible that whoever came up with the plot failed and coming up with the money, and he did the best he could, but this is not the sort of a film I'd want to be putting down on a resume. I wasn't strictly speaking bored, but I wouldn't go so far as to say that I was entertained. The CGI was appalling the acting was only mildly better. The whole thing was mostly unbelievable. Though it wasn't that bad, it's sooo difficult to think of any actual positive points. On a pass/fail basis, I'd give this movie a big fail. It does a couple of things okay, but it's very difficult to follow, and doesn't really have anything that stands out in apositive light about it. 17% -Gimly
½
Utterly boring and forgettable film that feels alot like its SyFy Channel produced. In fact now that I'm thinking about it is so forgettable I can only recall two scenes from the entire movie.
A.D. Villarreal
Super Reviewer
Growth Quotes
There are no approved quotes yet for this movie.