Hacksaw Ridge
(2016)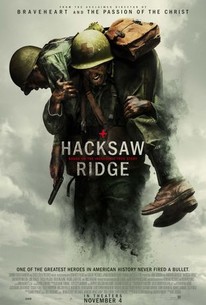 TOMATOMETER
AUDIENCE SCORE
Critic Consensus: Hacksaw Ridge uses a real-life pacifist's legacy to lay the groundwork for a gripping wartime tribute to faith, valor, and the courage of remaining true to one's convictions.
Movie Info
HACKSAW RIDGE is the extraordinary true story of Desmond Doss [Andrew Garfield] who, in Okinawa during the bloodiest battle of WWII, saved 75 men without firing or carrying a gun. He was the only American soldier in WWII to fight on the front lines without a weapon, as he believed that while the war was justified, killing was nevertheless wrong. As an army medic, he single-handedly evacuated the wounded from behind enemy lines, braved fire while tending to soldiers and was wounded by a grenade and hit by snipers. Doss was the first conscientious objector to ever earn the Congressional Medal of Honor.
News & Interviews for Hacksaw Ridge
Critic Reviews for Hacksaw Ridge
Audience Reviews for Hacksaw Ridge
½
Far too Mel Gibson for me. You're either going to like his style of directing or you aren't. I'm the latter.
Film Crazy
Super Reviewer
½
Mel Gibson indulges in his biggest obsessions as a filmmaker and creates a magnificent film that couldn't have been made by anyone else. Full review on filmotrope. com
Carlos Magalhães
Super Reviewer
½
It's hard to believe that Apocalypto in 2006 was the last time Mel Gibson was behind the camera. I suppose 10 years in movie-making exile is where antisemitic rants gets you in Hollywood. That aside, it's a pleasure to see Gibson directing again as he often delivers big, entertaining spectacles and his latest certainly falls into line with that. Plot: The true story of private Desmond T. Doss (Andrew Garfield) who joins the army during WWII but refuses to bear arms due to being a conscientious objector. At the battle of Okinawa, Doss serves as a medic, saving numerous lives and becomes the first man in history to win a Medal of Honor without ever firing a gun. If you consider the material of Hacksaw Ridge, you might notice that's it ripe material for Mel Gibson and his personal beliefs. As a man who has been very outspoken (a bit too much) on his Christian values, this film seems like the perfect vehicle for him to channel these beliefs. Faith and religion course throughout this and, as much as you can may want to overlook it, it just won't let you. This is a film about a saviour and it can't help but bombard you with religious rhetoric and imagery. In the end, you could ask where God is in all this bloodshed and mayhem but that might be a tad too philosophical for what Gibson is going for here. Sadly, that's what's missing from Hacksaw Ridge; Its jingoism feels out of touch and I couldn't help but wonder what, say, Terrence Malick might have done with the material. If you consider Malick's The Thin Red Line, for example, you'll find a philosophical depth that's lacking from Gibson's film yet it would have benefited greatly from. There's also a contradictory nature; Despite feeling like an old-fashioned, Hollywood style picture it has many riffs and rip-off's of contemporary war movies. There are several unashamed nods to Full Metal Jacket, Saving Private Ryan and Gibson's own Braveheart and Hacksaw's major problem is that it doesn't come close to bettering any of them. I'm also not sold on the choice of leading man; Andrew Garfield is not a bad actor by any means but he doesn't deliver a performance that's worthy of the Oscar nomination he's received for this. I don't know, maybe it's just his appearance that throws me off. He's too boyish or maybe it's just that I can't help but focus on how disproportionate his hair is to his face. It's not the first time in a film that I've noticed his monumentally large hair. It's very distracting. That said, despite its cliches and sometimes woefully written dialogue, this still has much to offer in terms of entertainment and it's a pleasure to see Gibson calling the shots with his usual visceral approach. He still has a ferocious ability to stage a good action set-piece and Hacksaw provides a good number of them. Although old sugar tits just can't help but put his Christian values and themes of religious devotion into this, it's hard not to be swept up in the combat and the man behind the astounding true story. It's not subtle storytelling from Gibson but it's simple and effective nonetheless. Mark Walker
Mark Walker
Super Reviewer
Hacksaw Ridge Quotes
There are no approved quotes yet for this movie.
Discussion Forum
Discuss Hacksaw Ridge on our Movie forum!