Halo 4: Forward Unto Dawn
(2012)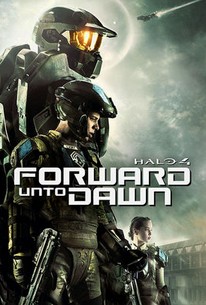 AUDIENCE SCORE
Critic Consensus: No consensus yet.
Halo 4: Forward Unto Dawn Photos
Movie Info
A United Nations Space Command (UNSC) cadet experiences a crisis of conscience before facing the Covenant on the battlefield, and draws inspiration from Master Chief while fighting for the future of mankind in this sci-fi action opus based on the hit X-Box franchise. As the latest crop of cadets trains to defend Earth from extraterrestrial threats, new recruit Thomas Lasky questions the need to fight. Later, after witnessing the ruthlessness of the Covenant firsthand, Lasky realizes that he may have what it takes to follow in the footsteps of the great Master Chief.
Critic Reviews for Halo 4: Forward Unto Dawn
All Critics (1) | Fresh (0) | Rotten (1)
"Halo 4: Forward unto Dawn" may have had a goal of broadening the audience beyond gamers, but the film is so close to watching a video game for the second action-filled half and the set-up so pedestrian that I don't see non-gamers becoming fans.
Audience Reviews for Halo 4: Forward Unto Dawn
The story of Halo begins at dawn. Great Movie! As far as Sci-Fi goes this is top notch material and I would love it without the history the Halo universe and myself already have. The acting is great, the story is great, the special effects? I'm sure you can guess. The overall production value of this is extraordinary and I am very confused as to why it has not reached a wider audience. I am thrilled that Microsoft and 343 put the time and effort in to create something truly magnificent, and I am excited for what the undoubted success of this series will bring the rest of the Halo universe. In 2525, as mankind has begun to colonise space, a group of cadets are training to fight against human insurrectionists. One of these cadets, Thomas Lasky, has doubts about his abilities as a soldier and his convictions for this war. Whilst he struggles with himself, the planet is invaded by an unknown alien race. Reeling under the assault, Lasky and his squad mates are rescued by John-117, one of the UNSC's legendary SPARTAN-II super-soldiers. John must inspire Lasky to fulfill his potential as a soldier and a leader to fight against an enemy deadlier than any that humanity has faced before.
½
Bloopers were more enjoyable than the whole movie.
Dead Angel
Super Reviewer
Halo 4: Forward Unto Dawn Quotes
There are no approved quotes yet for this movie.