Hannie Caulder
(1971)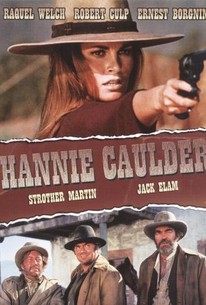 AUDIENCE SCORE
Critic Consensus: No consensus yet.
Movie Info
It's hard to discern the filmmakers' true point of view on Hannie Caulder. On one hand, you've got the heavily somber story of Raquel Welch's efforts to exact vengeance on the men who raped her and killed her husband. On the other hand, you've got the leisurely-paced, lightly amusing sequences in which saddle-tramp Robert Culp tries to teach Welch how to be a gunslinger in her own right. And on the third hand (and who's got one of those?), you are offered the goofy Three-Stooges-like antics of the principle villains: Ernest Borgnine, Strother Martin and Jack Elam. This British-financed western features one-time sexpot Diana Dors as a zoftic madam and an uncredited Stephen Boyd as an ineffectual preacher.
Rating:
R
Genre:
, , ,
Directed By:
Written By:
In Theaters:
On DVD:
Runtime:
Studio:
Paramount Pictures
Audience Reviews for Hannie Caulder
I don't know what your troubles are, lady, but I don't give a damn... Hannie Cauldor's husband is murdered and she is brutally raped by two men. Hannie offers a bounty hunter anything he wants to train her to be a cold blooded killer. After she is trained, she hunts down the gang the two men came from. "I heard you got real smart since the last time I saw you..." "Funny, I didn't hear the same about you." Burt Kennedy, director of Comanche, Big Bad, John, Wolf Lake, The Killer Inside Me, The Train Robber, The Devil's Backbone (1971), The Rounders (1965), and The Canadians, delivers Hannie Caulder. The storyline for this picture is entertaining and worthwhile. It is straightforward in many ways but a solid western. The acting is average and the cast includes Raquel Welch, Robert Culp, Christopher Lee, Jack Elam, Diana Dors, and Strother Martin. "First comes right and then comes fast." This was recently added to the Netflix queue so I snagged it for my wish list. This was fun to watch unfold and Welch wasn't terrible. The action scenes were cliché but entertaining. This is an okay addition to the western genre. "She wants to be a man." Grade: C+
Kevin Robbins
½
Vigorous western with a strong central performance by Raquel Welch. Tightly paced with good work from the rest of the cast. It's mix of humor and some brutal violence comes off as an uneasy mix but overall a solid film.
½
"Hannie Caulder" starts with Emmett(Ernerst Borgnine), Frank(Jack Elam) and Rufus Clemens(Strother Martin) going on a rampage that originates with a bloody bank robbery. They escape and kill a stationmaster before gang raping his wife Hannie(Raquel Welch), leaving her for dead. She pulls herself from the wreckage and makes it to a well where she encounters Thomas Luther Price(Robert Culp), a not unfriendly bounty hunter. They tangle and she asks him to train her to exact revenge. At first, he refuses and damn if she is not persistent, but he eventually acquiesces, telling her they have to see a man(Christopher Lee) about a gun in Mexico. I think the one thing that killed off westerns more than anything else was that the old stars were getting too old and there was nobody to really replace them.(Well, there's Clint Eastwood but he always had bigger ambitions...) So, it might seem weird at first to let Raquel Welch of all people star in one in "Hannie Caulder" but surprisingly she succeeds in the end, playing a character who is undergoing changes and learning throughout the movie, according to need.(By contrast, Robert Culp seems naturally suited to the terrain.) As Thomas says, Hannie wants to be a man and how else to survive in a lawless and brutal west where the army sleeps on the job, the sheriff looks the other way and the only justice comes from the end of a bounty hunter's gun?
Hannie Caulder Quotes
There are no approved quotes yet for this movie.
Discussion Forum
Discuss Hannie Caulder on our Movie forum!