Hardware Wars
(2009)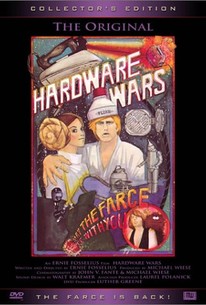 Movie Info
A satirical, lo-fi tribute to sci-fi film series that captivated generations of movie lovers, Hardware Wars takes Star Wars fans on a farcical space adventure that will keep them in stitches. Desperate droids 4Q2 and Art Deco are fleeing the empire when their escape pod lands on a desert planet inhabited by Fluke Starbucker. When Art Deco displays a video recorded by Princess Ann Droid imploring Augie Ben Doggie to save her from the villainous Darph Nader, Starbucker seeks the help of the powerful Red Eye Knight and recruits Ham Salad and Chewchilla to help them take down the empire and save the princess.
Audience Reviews for Hardware Wars
½
For being a parody, the punch lines were spaced out quite a bit and the props used were so cheap it wasn't even funny.
Doctor Touch
½
Hardware Wars is a corny low-budget spoof of that classic 1977 space epic we all know and love. A must-see for all Star Wars fans with a sense of humor. And at a 13-minute length, what's not to like?
Alex Carawan
A rather short film which is a spoof on Star Wars. Toasters and irons are used for space ships, a flaslight for a lightsaber, and the Chewbacca charachter is a puppet which looks like Cookie Monster. Basically, the whole film is a "coming attractions" trailer for a fake movie. Some clever moments even though done with an very low budget. Worth seeking out if you are a Star Wars to any degree.
D M
Hardware Wars Quotes
There are no approved quotes yet for this movie.
Discussion Forum
Discuss Hardware Wars on our Movie forum!