Head On
(1999)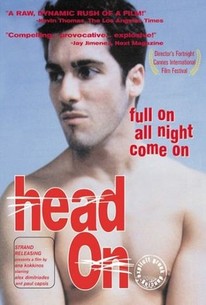 Movie Info
This bold feature homes in on the confused world of its 19-year-old hero, Ari. Over a 24-hour period he confronts both his sexuality and his Greek background. Uncompromising and dynamic, pic, adapted from the book LOADED by Christos Tsiolkas, is bound to provoke debate and perhaps even censorship problems, but the filmmakerÕs honesty and compassion should guarantee solid reviews. Ari is obsessed with sex, and has several sexual encounters during the filmÕs brief time span, most of them gay, through he does make a half-hearted attempt to fulfill the sister of one of his best friends. At the same time, heÕs facing problems with his traditional Greek parents, who have no clue about his sexual - and drug taking - activities.
Rating:
NR
Genre:
,
Directed By:
Written By:
In Theaters:
On DVD:
Runtime:
Studio:
Strand Releasing
Critic Reviews for Head On
Audience Reviews for Head On
½
A good looking and charismatic star in an interesting but somewhat aimless film about an aimless character. Production values are a bit low yet well managed. The sound work made the film a bit of a chore to hear, but some tweaks on the sound system to force the vocals to the front helped. The story puts weight on heritage and a little on morality in the sense of understanding ones own definition of morals. There are darts of sexual confusion tossed in for apparently no reason. These struggles feel honest yet are done a disservice by the ending. That the film takes place in the course of one day, the day after a family wedding in the opening scene, makes messages and outcomes seem unlikely, even forced and heavy handed; it's a plot device that betrays the stories sincerity and impact. It's clear our main character is struggling, but what is not clear, is about what. The film offers an unexpected and surprisingly refreshing twist in the self discovery film genre but still left me unsatisfied because it purports to end on a truth; that felt contrary to the purpose of the story and a bit much to conclude after the course of one very busy day. This character's truth apparently pains him, and it is within him to want and have something else, so the end feels almost contrary to the rest of the story. In retrospect I understand it all, the struggle is against the voice of the world telling us what we need to be when we are already that which we are, which has been shaped by the same world that screams at us on a daily basis.
Ronnie Culpepper
½
Straight from the off this film begins with a natural, well acted plot, with a good role played by Alex Dimitriades. The realisticness of the film, does make it feel a little slow moving, but remains an enjoyable watch throughout. In his duel cultural background, the character struggles to please his family and struggles to hide his sexuality of which he, himself finds is also finding hard to accept. Drug fuelled binges provides him with escapism, whilst denying himself the one thing that could make him happy.
Lady D'arbanville
Super Reviewer
One of the most depressing but gripping 'struggle in the closet' films I have ever seen, with a fantastic, charismatic and emotive performance from anti-hero Alex Dimitriades (who, judging from his IMDB page, needs to get a better agent). It's a niche subject perhaps, which is then squeezed into another minority - a traditional Greek family - but it's expertly written and played and actually has broad appeal. Ari's downward spiral (he starts close to the gutter and disappears into it by the time of the slightly rushed, bleaker than bleak ending) is gripping and entirely believable, the Aussie streets have a grimy/murky, hellish feel and some of the lines cross the boundaries of sexy/disturbing/distressing ("don't spill it"). Kinetic direction and a brilliant (and now nostalgic) soundtrack both ground and enhance a very good film. Pity about the off-putting poster art.
Daniel Parsons
Super Reviewer
Head On Quotes
There are no approved quotes yet for this movie.