Ill Manors
(2012)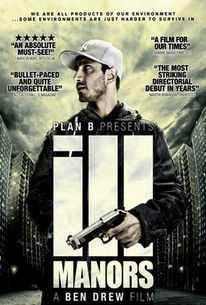 Movie Info
A unique crime thriller set on the unforgiving streets of London, iLL MANORS follows six disparate lives, all struggling to survive the circles of violence that engulf them. There is ex-dealer Kirby, who has just been released from prison, thug Ed who will stop at nothing to find his missing phone, troubled Michelle who is just looking for her next hit, young Jake who finds himself drawn to the local gang, Chris, who seeks revenge, Katya, who is desperately trying to escape this foreign land, and Aaron, our main protagonist who is just trying to do the right thing.
Critic Reviews for Ill Manors
Audience Reviews for Ill Manors
A dark, gritty English drama following the not so pleasant lives of a range of people living close to the Olympic stadium in London. Ranging from gangs, bullying, drug addicts, gun crime, murder, prostitution and sex trafficking! It reminded a bit of Kidulthood/Adulthood but is harder hitting. Also similar in parts to a recent TV drama Top boy. Still the mainly rather young and unknown cast give good performances about the sorry state of some lives in the capital. Occasionally broken up by brief light hearted moments and music/lyrics from the director Plan B.
Ill Manors Quotes
There are no approved quotes yet for this movie.