Iron & Silk
(1991)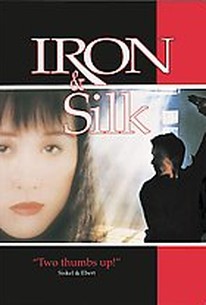 Movie Info
Based on the real-life experiences of star Mark Salzman (who co-wrote the screenplay), Iron and Silk examines the fish-out-of-water story of Mark Franklin (Salzman), an American who accepts a job teaching English at a small Chinese college. There, he begins to study the martial arts in an attempt to assimilate himself into Asian society.
Rating:
PG
Genre:
, ,
Directed By:
Written By:
In Theaters:
On DVD:
Runtime:
Studio:
Live Home Video
Critic Reviews for Iron & Silk
There are no critic reviews yet for Iron & Silk. Keep checking Rotten Tomatoes for updates!
Audience Reviews for Iron & Silk
as i was saying, whata weekend! friday started early, 7:30 was up and did all the usual home stuff, around 11:00 drove to north berkeley and barted to the city. once in the city, went to macy's men's building to see the HK wushu team demo... hmm.. well, short bits of 15 minutes, which i only saw the first one. super small place, no chemistry ;) few people were around watching, of course, there was no place for people to watch either! oh well... met with djbam and briefly said hello to a few team member and their coach and went to have some lunch with djbam and a friend to a thai restaurant that had the most amazing waitresses that i have seen lately ;) (not that amazing..... but of course, u have to see the waitresses of canton! eventhough i did meet one interesting last week at friday's, after being in the bay area this weekend, i dunno if i think she is interesting anymore :D) after lunch, took the bart back to the east bay, grabbed my car and drove to the famous headquarters of RT! too bad i could not get off and take a short tour ;) there is no place to park outside that building! there, saw smellycat and got my package from etchy... yes! among other things there was the japanese movie program of new police story! nice! went back home and added it to my collection, so etchy can have an idea of the volume of his gift, this is my FORTYFORTH japanese movie program of jackie! check'm out: [center][img]http://perso.wanadoo.es/jlpaufil2/tiff/jpncoleccion.jpg[/img][/center] yep, 44 of them, all in perfect condition and conveniently stored ;) so yeah, it was a nice gift, Domo Arigato Goza Imasssu!! ;) back at home, my friend lan was back from beijing, bringing me the new photo book of wushu that has been published. it's big and thick blue book called "zhong hua wu shu hua ce", very similar to that other book that published around 2000, the "chinese wushu pictorial". This new one has no english name and shows pictures of some history, styles, famous ppl, and schools from all over china. interesting gift for my collection too! then, to close friday, i watched a nice new DVD that i got; the famous american wushu movie "iron & silk", what a well done movie!! the DVD's image is very clear, but it only comes in fullscreen version which is a shame. there are no subtitles or languages options either, but the movie pays off for what it is... [center][img]http://images.rottentomatoes.com/images/movie/coverv/89/111089.jpg[/img][/center] i used to own a very old copy of copy of copy in VHS format, watching it now in DVD quality allowed me to notice so many new things i haven't seen before. the movie does not criticize china so heavily as the book though, it is a bit softer in that sense, but still takes a few stakes at china's views on foreign countries and foreigners plus china systems in general... and like a wushu friend of mine who used to live and work in china during mid 80's said once: "yeah, apart from not being able to get the girl, the rest are things that have happened to all of us" :D:D:D. understanding all its limitations as a movie, i give it an 8/10 for the enjoyable time... and more on the weekend later...
Emilio Alpanseque
Iron & Silk Quotes
There are no approved quotes yet for this movie.
Discussion Forum
Discuss Iron & Silk on our Movie forum!