It
(2017)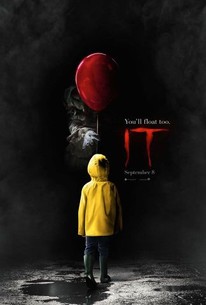 TOMATOMETER
AUDIENCE SCORE
Critic Consensus: Well-acted and fiendishly frightening with an emotionally affecting story at its core, It amplifies the horror in Stephen King's classic story without losing touch with its heart.
Movie Info
New Line Cinema's horror thriller "IT," directed by Andy Muschietti ("Mama"), is based on the hugely popular Stephen King novel of the same name, which has been terrifying readers for decades. When children begin to disappear in the town of Derry, Maine, a group of young kids are faced with their biggest fears when they square off against an evil clown named Pennywise, whose history of murder and violence dates back for centuries.
Audience Reviews for It
I hate clowns!! That's the purpose of a horror movie and "It" delivered
Thomas Johnston
Super Reviewer
It's funny, really funny.........wait it's not meant to be a comedy...urm it isn't scary but it is well acted ð???
Film Crazy
Super Reviewer
½
The horror genre has been digging itself out of the mud lately, in that it's been pretty lame for the past decade, but these past few years have been pretty solid for the most part. When reflecting on IT, aside from a few technical aspects, this is a superbly made picture that I think many people will come to fear and remember. IT may is probably the best horror flick you'll see all year and easily one of the best in recent memory. I find myself remembering specific moments and easily being able to talk about them in terms of how terrifying or well-written they were. Yes, this film is graphic and pretty vulgar, but if you can be a fan of a a studio trying to mix elements of The Goonies or Stand By Me with a creepy horror film, then I can't recommend this film enough. Here is why IT is such a great film. This Stephen King adaptation has been done in the past as a television mini-series that was later cut together as one long film, but it just seems too cheesy in comparison now. This is an entirely new spin on this story, and even though the main plot elements remain intact, there is plenty of new scares to go around. From being able to dive deeper in to the troubled pasts of the children, due to the fact that this was an R-rated film, I was able to care more about them when they were in danger. This is the type of film that really shouldn't have ever been anything less than R-rated, because those aspects serve the story in a positive way. I couldn't have been happier with the casting throughout this film. From Bill Skarsgård as Pennywise the clown or every one of the "loser's club" kids, I felt as though these people had been on set together for over a decade, due to their surprisingly strong chemistry. I felt for certain characters on a deep level (Bill and Beverly in particular) and it just added to the terror when their characters had other things going on in their lives as well. Aside from a few outbursts that were a little off-putting, these kids all have bright futures ahead of them and I can't wait to see where they end up next. Most people are clearly going to be attending screenings for this film, because they're either afraid of clowns or just want to be scared by a great horror film, and while that's the main reason it's going to make tons of money at the box office, that shoudldn't be the only reason it's watched. This is also a great film filled with very likeable and memorable characters. Yes, there are some moments of extremely terrifying imagery, but if that's all a horror movie has to offer it's audience, then it's not really living up to its full potential. In the end, this was a surprisingly necessary remake that I believe the majority of audiences will love, not just like. If you can get yourself to be invested in a horror film, but hope for a little more than just a few scares, then IT will surprise you like it surprised me. I'm not even a big fan of the horror genre, but this film's characters sucked me in and I even found myself shocked at some of the imagery presented throughout the film. From terrific direction, brilliant cinematography for this type of movie, a solid screenplay, and some of the greatest horror imagery I've seen in quite a few years. IT is just as terrifying as it is funny or dramatic, and those aspects blended together very well. As soon as a somber moment seems to linger for too long, a joke is said or a scare is presented. IT is a fantastic horror film and an all around great movie in general.
It Quotes
There are no approved quotes yet for this movie.
Discussion Forum
Discuss It on our Movie forum!