It Waits
(2006)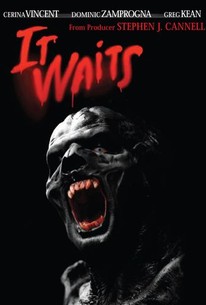 AUDIENCE SCORE
Critic Consensus: No consensus yet.
Movie Info
Imagine being trapped inside a forest ranger station with your loved ones - and praying for your life as a fearsome, carnivorous creature lurks outside, waiting to clean up. This is the fate that befalls the young Danielle St. Claire (Cerina Vincent) and her boyfriend, Justin(Dominic Zamprogna) one evening, in acclaimed TV producer Stephen J. Cannell's made-for-television frightfest, It Waits. Traumatized by a recent auto accident that killed her friend - in which she was driving - St. Claire exiles herself to a ranger station in the San Bernardino Mountains. Meanwhile, a group of archaeology students from Princeton unwittingly open a nearby cave and unleash a centuries-old demon - that heads straight for Danielle. Underplayed and subtle, director Stephen R. Monroe leaves the goriest and most gruesome details off camera, allowing terror to build in the viewer's mind. Cannell co-scripted in addition to executive producing. Eric Schweig co-stars.
Rating:
R
Genre:
Directed By:
Written By:
In Theaters:
On DVD:
Runtime:
Studio:
Anchor Bay Entertainment
Critic Reviews for It Waits
All Critics (3) | Fresh (1) | Rotten (2) | DVD (4)
A pretty good action horror film comprised of really good direction a la Monroe who knows how to draw tension and mount it inch by inch.

...ultimately bogged down by a melodramatic opening half-hour and a overall feeling of tediousness.

Ironically, in this film, the "it" doesn't "wait" at all. It runs all over the mountain tearing things apart.

Audience Reviews for It Waits
Lets start out by analyzing this movie in depth... from the case, to the disc, to the movie itself. It Waits... whats with the title? Whose "It"? Does it have a name? It is a little confusing in its own regard, but that adds a little flare of mystery which is a good thing. In fact the case of the DVD itself talks about this creature, gives a little bit of a synopsis, it builds suspense of what this creature looks like. I had some high hopes for this movie, I mean maybe it'd be a gem in a fountain of rocks. Well as I opened up the case, the monster was pictured on the DVD itself which ruined any bit of suspense I had for this thing. I knew what it looked like which took away from the film itself. Now that that mess is out of the way lets get into the movie. So for plot... well I really couldn't make sense of the plot, in fact I don't even think this movie had one. The monster came from a cave, we are told that it is a Native American evil spirit that has been freed from cave. This movie really can be summed up into one single sentence. "What was the point of that?" Nothing significant happens, people die without any build up so why should we care? The movie seems rushed as it is under ninety minutes, and nothing really happened. I gotta give kudos on another review, someone said the African Grey Parrot was the best actor... and he was. I paid the most attention and interest when that little bird was on screen. Its amazing how that bird can talk. But in short... This movie seems rushed, has no buildup, the action scenes are boring, the characters have no buildup and make it impossible for the viewer to become attache to them, the monster looks okay but we hardly see it enough, the ending is a joke. But if you love birds I recommend this movie to you, because the parrot really is the best aspect to this film. However, that's really sad considering this is a horror movie, but if you're not a bird fan steer clear of it.
Chad Halsman
Parts of the plot and story in whole are kind of absurd ; The actors must of learned their craft online but believe it or not, this wasn't bad for a horror movie because the monster was cool as heck (can't believe I used the word heck)
Harold Nelson
½
A pretty meh movie, but better than your average B-movie, I guess. The African grey parrot is the most talented actor of the film by far.
Alex Carawan
It Waits Quotes
There are no approved quotes yet for this movie.