Die Nibelungen: Kriemhilds Rache (Kriemhild's Revenge)
(1924)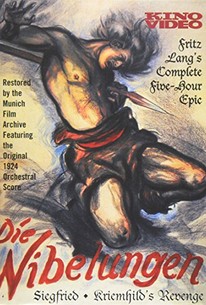 AUDIENCE SCORE
Critic Consensus: No consensus yet.
Movie Info
The second portion of German director Fritz Lang's two-part silent epic Die Nibelungen (part one was 1924's Siegfried), Kriemhild's Revenge opens with mythical heroine Kriemhild (Margarethe Schoen) vowing to avenge the murder of her husband Siegfried. Realizing that her brother, King Gunther (Theodor Loos), is too weak-willed to bring the culprit--her villainous half-brother Hagen Tronje (Hans Adalbert Von Schlettow)--to justice, Kriemhild plots her own private vengeance. Later, Kriemhild is obliged to participate in a "marriage of state" to Burgundian King Etzel (Rudolph Klein-Rogge, who later played Rottwang in Lang's Metropolis). At the wedding festival, she takes the Burgundian revellers hostage, promising to free them if they'll kill Hagen Tronje, who is one of the guests. Their refusal leads to the film's climactic bloodfest, during which Kriemhild metes out justice with Siegfried's magic sword. An astonishingly elaborate and expensive effort (much more so than any American film of 1924), Kriemhild's Revenge is admittedly rough sledding until its lively finale, especially when shown in its original 140 minute length (cartoon director Chuck Jones managed to compact the same basic story into his 6-minute masterpiece What's Opera, Doc?) ~ Hal Erickson, Rovi
Rating:
NR
Genre:
,
Directed By:
In Theaters:
On DVD:
Runtime:
Audience Reviews for Die Nibelungen: Kriemhilds Rache (Kriemhild's Revenge)
The epic story continues with much of the same cast and crew. The production values remain lavish in the style of German opera. I was intrigued to see Kriemheld (Margarete Schön), Siegfried's widowed wife, step to the front of the tale. Unfortunately, she does not get to show much strength or expression in seeking revenge and there is simply less magic in this sequel. Kriemheld's own family sides with Hagen, so she travels to the land of the Huns in the East and forms a marriage of allegiance with King Etzel, translated as Attila. Fritz Lang regular, Rudolf Klein-Rogge appears in ridiculously offensive makeup as Attila the Hun. A large portion of the film consists of organized armies, led by Gunther and Hagen, and raiding mobs of Huns, doing Kriemheld's bidding, in chaotic battle. It's a tragic epic with a lot of death, in the end.
Byron Brubaker
Super Reviewer
The second volume of "Die Nibelungen" (Think of it as the original "Kill Bill") is a bloody epic about an angry bride out for vengeance (Wow, yeah; it really is the original "Kill Bill"). Far darker than Part I, "Kriemhild's Revenge" forgoes any elements of fantasy and magic, and instead focuses solely on violent military campaigns and political feuds. Lang explores the darker sides of duty, honor, and justice, and there are some damning indictments of character's behavior in the first film. Whereas "Die Nibelungen: Siegfried" has morals easily viewed in black and white (Siegfried = glorious hero, Hagen = diabolical villain), the second part is all shades of gray, and it's impossible to not feel conflicted as the story progresses. It's surprisingly nuanced, and extremely powerful-- this is one of the great silent epics, and is highly recommended (if you have 5 hours to spare). Amazing movie(s).
Trevor Downs-Robertson
½
the second half of lang's epic is the yin to siegfried's yang. widow kriemhild has sworn vengeance for siegfried's death, even marrying attila the hun when he pledges to help her. much blood is shed and margarete schoen resembles an ice maiden by gustav klimt. amazing costumes and sets throughout
Stella Dallas
Super Reviewer
Die Nibelungen: Kriemhilds Rache (Kriemhild's Revenge) Quotes
There are no approved quotes yet for this movie.