L'Appât (Fresh Bait)
(2000)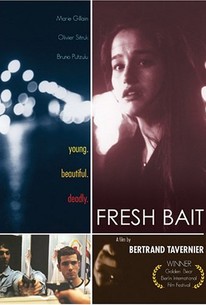 AUDIENCE SCORE
Critic Consensus: No consensus yet.
L'Appât (Fresh Bait) Photos
Movie Info
This drama examines three amoral young people living in Paris. 18-year-old Nathalie (Marie Gillain) works in a clothing store and dreams of opening her own boutique in the United States. She shares an apartment with her boyfriend Eric (Olivier Sitruk) and his slow-witted pal Bruno (Bruno Putzulu); she pays the rent while they stay home and watch crime movies on television. All three are looking for a fast and easy way to make some money, so together they devise a plan. Nathalie will hang out in nightclubs, meet prosperous-looking men, and go home with them. Once she's inside their apartments, she'll let in Eric and Bruno, and they'll rob the place of cash and valuables. The plan works well at first, before things go wrong one night and Eric commands Bruno to kill their victim. ~ Mark Deming, Rovi
Critic Reviews for L'Appât (Fresh Bait)
All Critics (2) | Fresh (0) | Rotten (2) | DVD (1)
far too intent on capturing the minutaie of the trio's crime to make this a compelling movie
July 17, 2005 | Rating: 3/5
Lovely Marie Gillain exploits her turn in the spotlight as truly voyeuristic bait. But, the story is mindless, the concept adolescent, the pacing feverishly repetitious.
Audience Reviews for L'Appât (Fresh Bait)
[font=Century Gothic]In "Fresh Bait", Nathalie(Marie Gillain) is an 18 year old shopgirl(sorry, shopgirl/model) by day. At night, she roams high class bars making contact with wealthy gentlemen trying to forward her career prospects. Her boyfriend, Eric(Olivier Sitruk), has been out of work for so long that his father has disowned him. His friend, Bruno(Bruno Putzulu), also terminally unemployed, crashes at Nathalie's apartment which is paid for by her mom. The three of them dream of moving to America where they can own their own store but first they need 10 million Francs. Where is this eternally broke trio supposed to come up with such a sum? Well, they decide on a bold plan of action to rob men chosen out of Nathalie's address book.[/font] [font=Century Gothic][/font] [font=Century Gothic]While it does feel a little like a film of the French New Wave, "Fresh Bait" is so amateurish and nonsensical that I still wonder if it is meant to be taken seriously.(Director Bertrand Tavernier should know better.) If the characters need such a large amount of money, then why don't they rob a bank? Home invasion is more the style of drug addicts and the quick fix. Overall, the movie might serve as a critique of the invasive influence of American culture on France.(The young men do watch the 1983 version of "Scarface" an awful lot.)[/font]
L'Appât (Fresh Bait) Quotes
There are no approved quotes yet for this movie.