The Last Castle
(2001)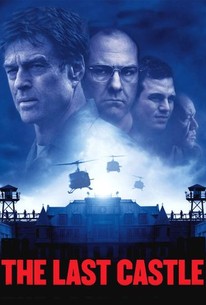 Movie Info
The Castle is an unlikely last stop in the brilliant career of three-star General Irwin. Court-martialed and stripped of his rank, Irwin has been sentenced to the maximum-security military prison, which is run with an iron fist by its warden, Colonel Winter. Winter can't help but respect the once-legendary general, but it isn't long before that respect turns to resentment and then open hostility as Irwin continually confronts the warden on his methods. Setting out to break Irwin by whatever means necessary, the colonel's tactics only fuel Irwin's defiance and cause the other prisoners to rally behind the general in his new mission: to seize control of the prison and remove Winter from his command. The men imprisoned in The Castle have been told that they are no longer soldiers... but they are about to prove that they can still fight a war.
Critic Reviews for The Last Castle
Audience Reviews for The Last Castle
What a load of American drivel, an uninspired prison flick that bores and irritates the hell out of you!
Film Crazy
Super Reviewer
I usually like seeing movies where the underdog finds a way to triumph over the nasty villain, but this movie is a bit hard to take. In five minutes of movie time General Irwin goes from "Hmmm, we should overtake this prison" to the full fledged revolt overcoming guns, water cannons and helicopters.
A flawed, if watchable drama concerning a former general (Robert Redford) who is sent to prison under the watch of a sadistic warden (James Gandolfini), and how he rouses the inmates to rise up against the corrupt warden. Redford is perfect as the silent rebel type, with Gandolfini an ideal fit as the ego maniacal villain. Although it is heavily cliched and suffers from an overdose of melodrama, the end still packs a punch despite its faults.
Dan Schultz
Super Reviewer
Discussion Forum
Discuss The Last Castle on our Movie forum!