Leprechaun
(1993)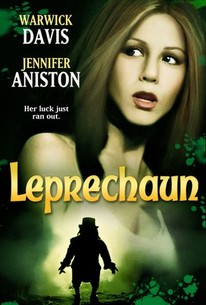 Movie Info
Friends star Jennifer Aniston made her film debut in this horror story about a psychotic, six-centuries-old leprechaun on a murder spree throughout North Dakota.
People Who Like this movie also like
News & Interviews for Leprechaun
Critic Reviews for Leprechaun
Audience Reviews for Leprechaun
½
Awful film, but it has a campy value.
Christian C
Super Reviewer
Did people actually think this was scary? If so, shame on them. I was laughing at the parts that were suppose to be scary. I mean c'mon, a leprechaun? Leprechauns aren't scary. If I came face to face with one, I wouldn't run and scream, I'd tie him up and force him to tell me where his gold is, end of story. But in this, the idiot characters are afraid of it. The plot is really just the leprechaun terrorizing the characters while he looks for his gold. It stars Jennifer Aniston as cliched damsel #184. Warwick Davis plays the Leprechaun and he actually does a decent job, considering the dialogue is weird and his character is annoying. Going back to what I said about leprechauns not being scary, the suspense the director tries to build is pointless. The leprechaun looks ridiculous, nobody can take him seriously. His means of killing people are laughable. (Though intentional or not, I'm still unsure of.) In one scene he kills a guy by bouncing him to death with a pogo stick. I'm not kidding, he bounces on a guys chest with a pogo stick until he dies. At the point I just wanted to stop the movie and just throw it away, but considering I'm a glutton for bad luck, I figured things couldn't possibly get worse as the movie went along. I was kind of right; to be fair, most of the movie has its fair share of bad acting, cheesy scenes and painful plot devices, but there is one line that i actually think was kind of badass. The leprechaun can only be killed by a four leaf clover (Failing in logic 101) and the youngest member of the characters (He's like 9) slingshots the clover onto the leprechaun. As he does so, he says this line: "Fuck you Lucky Charms!" I know my review doesn't come close to making the line as badass as it should, but look it up on Youtube, it's pretty cool. It doesn't exactly make up for the rest of the film though. I'm almost embarrassed to have this movie in my DVD collection, but I figured it might look good since the movie has gained something of a cult following by certain moviegoers. I'm just glad I'm not obligated to watch the countless sequels this movie has.
Tyler Robertson
Super Reviewer
½
Bad attempt at delivering a comedy horror flick, but still the best in the series (if that says something of importance to you) Leprechaun is a cheesy, poorly made comedy horror film about a killer leprechaun. Starring a very young Jennifer Aniston, in one of her first films roles, Leprechaun is a mess of a horror comedy film. The film is amusing, but it's still a misfire in the genre. I've seen better horror comedies than this, and this one is forgettable. The performances are questionable and the mood of the film is laid back and silly. This could have been a memorable film, but it doesn't do anything memorable. The acting is horrible, and the gags are boring and repetitive. The film has an unimpressive plot that accompanies the absurdity of this film. Leprechaun is a failure as a comedy horror flick, and it's funny, but only because it's such a bad film. The cast are terrible, and the direction of this film is unfocused and flawed. Director Mark Jones's attempt a comedy horror flick fails on all levels. Leprechaun could have been much better than this, but instead it fails to be a memorable comedy horror flick. This is one of Warwick Davis' worst performances, along with the sequels to this train wreck of a film. However this is the better film in the series, despite the fact it's still a bad film. Leprechaun is the type of film that is almost embarrassing to even call a guilty pleasure.