Life, Animated
(2016)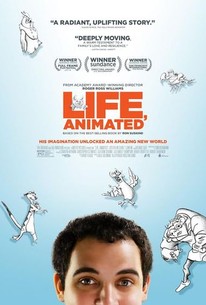 TOMATOMETER
AUDIENCE SCORE
Critic Consensus: Life, Animated offers a heartwarming look at one family's journey, and a fascinating message that's more than enough to outweigh its unanswered questions.
Movie Info
The inspirational story of Owen Suskind, a young man who was unable to speak as a child until he and his family discovered a unique way to communicate by immersing themselves in the world of classic Disney animated films. This emotional coming-of-age story follows Owen as he graduates to adulthood and takes his first steps toward independence.
News & Interviews for Life, Animated
Critic Reviews for Life, Animated
Audience Reviews for Life, Animated
½
A fascinating story full of love and generosity about a young autistic man who learned how to express his feelings and open up to the world through Disney animated movies - and even if it could have gone deeper into his condition, the film can be extremely moving sometimes.
Carlos Magalhães
Super Reviewer
Documentaries are usually one-sided. They exist to either exploit a certain subject or make you believe one side of an argument. That being said, there are also documentaries that focus on an individual, exposing a wonderful story to the world, not needing to dig deep in order to pull out a huge message for audiences. When you have a true story to display to the world, that is usually enough. Life, Animated is the prime example of a documentary that is done with care in order to expose this person in the best way possible. It doesn't exist to make anyone feel a certain way, but more to show that there are little miracles happening around the world that nobody talks about publicly. I am very happy this film was made and here is why I believe the editing choices made this a much more powerful story than it already was. Life, Animated explores the story of how Owen Suskind was born a normal boy, but began to develop a form of autism after age three. Being told that Owen may never be able to speak again, the Suskind family makes it their mission to find a way. This film explores the past, which has Owen falling in love with classic Disney animated films, memorizing them, and being able to recite them word for word. These films began to be a learning tool for him as he slowly began to regain his speech. He would never be the same again and would still be affected by autism, but he was able to develop, meet a girl, and eventually enjoy life on his own, mainly due to Disney films. This film would have been touching through simple interviews, but the filmmakers go above and beyond in storytelling through editing. Although there are a few videos showcasing Owen as a child, there really wasn't enough to display that would go along with the information that his parents dish out throughout the interviews. Creating original animation to display certain memories from the past, this film is able to capture the very essence of what is being talked about throughout the interview process. Adding multiple levels of emotion on top of the already deep revelation, Life, Animated is more than just a good documentary. The animation is what sold the film for me, due to the fact that it created a vision for specific heart-breaking or heart-warming moments of the past, not to mention the editing choices to make this even more moving. From the very beginning, it was clear that Disney was going to be referenced a lot, but the fact that they choose to intercut actual scenes from specific films that relate to specific moments in Owen's life, actually had me choked up. Whether it be the fact that he wanted to be a real boy again like Pinocchio or faced the world on his own like Simba, the editing throughout this film was done with such care that I found myself constantly smiling. Life, Animated is a simple discovery made by Owen's parents that has lead to a much deeper and broader story that I believe is well worth the watch. In the end, whether or not documentaries interest you, at a mere 90 minutes, I believe if you are a fan of Disney, being moved by a wonderful true story, or simply wish to have a good, happy cry, Life, Animated is worth checking out. I will praise this film to anyone who asks about it, but instead of saying I love it, I will have to stick to the word great, or very good. This I must do, because there are quite a few times when things felt very staged for film purposes, making me wonder if things had been a little too manipulated to fit the heart of the film. That is honestly my only complaint when w]looking back on this film, but it's quite a bit one. This is still a great documentary, but the staging bothered me quite often. Nevertheless, I highly recommend Life, Animated.
In 'Life Animated', Roger Ross Williams constructs a very intimate and uplifting portrait of an autistic young man who used Disney animated films as his gateway to getting through life. Throughout the film we see how Owen Suskind became a depraved Autistic boy not able to communicate socially or verbally, though it's only by tapping into his Disney obsessed childhood that he was able to open up to others in a very endearing manner that we eventually see within the documentary's drama. Though it's always fascinating to see how Owen can become a figure for various Autistic kids to look up to, it's the more abstract animated visions of Owen's world and thoughts that eventually become the most eye catching sequences of the film. In a way the film's animated segments give our main subject's subconsciousness a little more light as well as other various flashbacks that play with a child version of Owen. Overall, this might one of the best documentary's of the entire year, I don't think I've seen Autistic people viewed in such an uplifting and fascinating light unless of course it was glamorized by Hollywood in either 'Rainman' or 'Forrest Gump'. Sad to say this film might beat both of those fictionally conceived flicks, this is Highly Recommended for almost everyone and I mean Everyone!!! to really just see and be amazed by it's unique sense and exploration.
Luke Eberhardt
Super Reviewer
Life, Animated Quotes
There are no approved quotes yet for this movie.