Logan Lucky
(2017)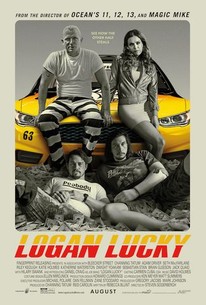 TOMATOMETER
AUDIENCE SCORE
Critic Consensus: High-octane fun that's smartly assembled without putting on airs, Logan Lucky marks a welcome end to Steven Soderbergh's retirement -- and proves he hasn't lost his ability to entertain.
Movie Info
Trying to reverse a family curse, brothers Jimmy (Channing Tatum) and Clyde Logan (Adam Driver) set out to execute an elaborate robbery during the legendary Coca-Cola 600 race at the Charlotte Motor Speedway.
News & Interviews for Logan Lucky
Critic Reviews for Logan Lucky
Audience Reviews for Logan Lucky
A fun a smart movie that felt like it should of been better but on the other hand I had no expectations for it so I enjoyed it, It maybe classed as a comedy but it's very simple humour will not be enjoyed by everyone, All the cast were terrific and all had time to shine and it's really the main reason the film is as good as it is, The heist was fun and well done and had a twist at the end but it was pretty obvious if you have seen heist movies before, It won't be everyone's cup of tea but the simple and yet well thought out plot and a star studded cast are more than enough to enjoy this movie.
Jamie Clarke
Super Reviewer
The joke here is that rednecks are considered a joke, but the film does not take that limited view even for the sake of a cheap laugh. So then, now let's have some fun. What if The Thomas Crown Affair and Duck Dynasty were brother and sister and then had kids? The trick of heist films is getting the viewers to side with the criminals, and thusly enjoy outsmarting the cops, the fuzz, the heat, 5-0, and this film supplies that high. On top of that there is the added joy of a cast that enjoys that just as much as the audience, so we get to watch them live it up. This film has that too. Throw in a little A-MUR-I-CA love, and you've got yourself a kick at the flickers.
Kevin M. Williams
Super Reviewer
If you've seen a Steven Soderbergh movie before, particularly the Ocean's trilogy, you'll notice many similarities between them and Logan Lucky. They're both about a group of colorful characters trying to pull off a multi-million dollar heist, all while avoiding capture. It's the cast and setting that make it stand on it's own, versus being Ocean's 14. Channing Tatum, as he did in the Jump Street movies, once again proves that he can make an audience laugh while standing shoulder to shoulder with high-caliber dramatic actors like Adam Driver, Hilary Swank, and Daniel Craig. Did I mention Daniel Craig? The latest Bond turns in what is by far his funniest performance, toting a heavy southern accent with a strangely random knack for science. Tatum, Driver, and Craig set out to rob the vault of the biggest Nascar event of the year, located in Concord, North Carolina. Like Soderbergh's Ocean movies, the majority of the film is an incredibly elaborate, step-by-step plan to execute a heist, coupled with sharp editing and a smart script. A particularly memorable scene involves the prisoners of Daniel Craig's jail starting a riot so that he can escape, perform the heist, and make it back before dinner. Their list of demands are simple; add a Game of Thrones shelf to their library. As a huge fan of Game of Thrones, watching them engage in back-and-forth banter with the warden (an all too proud Dwight Yoakam) about when the next books are going to be released was a major highlight, and had me rolling. Yet even with the wise-cracking characters and top-notch cinematography, a feeling of deja vu was still lurking in the back of my mind. Thankfully, it wasn't enough to distract me from concluding that Logan Lucky was mostly a genuinely funny and smart late-summer flick.
Kevin Mozulay
Super Reviewer
Logan Lucky Quotes
There are no approved quotes yet for this movie.
Discussion Forum
Discuss Logan Lucky on our Movie forum!