Love In The Time Of Monsters
(2013)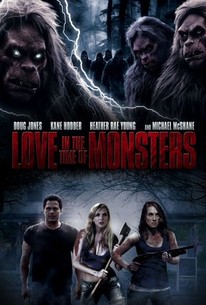 AUDIENCE SCORE
Critic Consensus: No consensus yet.
Love In The Time Of Monsters Videos
Love In The Time Of Monsters Photos
Movie Info
Two sisters, Carla and Marla, travel to a cheesy tourist trap for a weekend getaway only to arrive in time to battle toxic monsters dressed in Bigfoot costumes! Determined to save their loved ones they must become heroes...but what happens when the real Bigfoot arrives?
Rating:
NR
Genre:
,
Directed By:
Written By:
On DVD:
Runtime:
Studio:
Critic Reviews for Love In The Time Of Monsters
There are no critic reviews yet for Love In The Time Of Monsters. Keep checking Rotten Tomatoes for updates!
Audience Reviews for Love In The Time Of Monsters
This was a funny movie and it had some good gags in it. The actresses who played the sisters did a nice job. There's also a lot of famous horror actors in this one which was cool to see. I would have liked to see more comedy in this movie. https://www.youtube.com/watch?v=f0GRvPUN4-k
J
Costume monsters, cheesy one-liners, and over-the-top characters are usually a recipe for disaster-and not in the good, "we all love a good disaster"-way. However "Love In The Time Of Monsters" finds that magic sweet spot that brings all this madness together beautifully. Writer Michael Skvarla expresses a mildly genius ability to create a story that is fun, full of energy, and fast-paced with characters and situations that are truly entertaining. The fact that Matt Jackson took that vision and brought it to life in such a clever way, blending classic 80's styled humor, and special effects while giving a true to now experience is phenomenal. "Love In The Time Of Monsters" is really beyond the basic indie monster movie, and proves there are still plenty of original stories alive in horror. The story itself sets up a group of vacationers and residents at a wilderness tourist trap against some pretty unnatural circumstances. Toxic waste, viral mutants, and nature gone wild bring mayhem and carnage to the great outdoors. A bigfoot themed, All-American vacation spot with a Croatian-American owner, Bigfoot costumes, plenty of bad one-liners, zombie critters, and human mutants make "Love In The Time Of Monsters" a fun, witty horror/comedy that plays on both classic and modern concepts of relationships, love and horror. So much of this film and the direction taken to bring it to life should have and could have went wrong but somehow it all comes together to make one pretty awesome movie. The acting is tight, with quick dialog delivered on time by a cast that brings their A game. "Love In The Time Of Monsters" stars Doug Jones, Kane Hodder, Michael McShane, Shawn Weatherly, Heather Rae Young, Gena Shaw, Marissa Skell, Paula Rhodes, Hugo Armstrong, Danny Vasquez, Paul Elia, Ben Palacios, Jade Carter, Zylan Brooks, Alex Sanborn and Bigfoot. The story is really does have a bit of everything mixed in with an almost slasher-esque atmosphere and setting, zombie/mutants, gore, comedy, even some boobs pop out in a "Zombeavers" like moment of bloody fun. There are a few moments where dialog falls flat, and characters step a bit over the line of authenticity but well over 95% of everything written and given in "Love In The Time Of Monsters" is just so on point and great that the flubs just don't matter much. The special effects are, as I said, a big ole bag of practical awesomeness with blood, guts, and gore. There is a tiny bit of CGI that does cheapen a one or two moments in the film but considering "Love In The Time Of Monsters" is a film with flesh-eating mutants running around in Bigfoot costumes, zombie wildlife, and characters who seem too cool for school in that comedy way, the CGI is not a big downer. Plus most of the effects in this thing are old school, organic methods of monster movie making that, thanks to killer directing, writing, and clever acting, give one entertaining viewing experience. The soundtrack and sound effects are pure energy. The hard rock, heavy metal soundtrack takes the atmosphere up a notch while feeling reminiscent of classic 80's horror. The sound effects offer up atmospheric chills that are both dark and fun. Overall "Love In The Time Of Monsters" is a great indie monster movie. Even the "real" Bigfoot makes an appearance to save the day. He is a bit costume-y, but much like the animatronic critters and tongue-in-cheek dialog, it just works. This is a film that all of horror's fans, both the hardcore "dark material" fans and the horror comedy fans. Definitely check out "Love In The Time Of Monsters", it is a film that you don't expect to be so damn good but it just is!
rick russ
Love In The Time Of Monsters Quotes
There are no approved quotes yet for this movie.