Manchester by the Sea
(2016)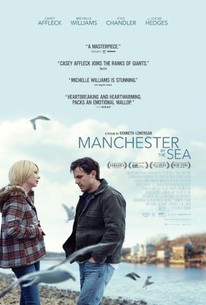 TOMATOMETER
AUDIENCE SCORE
Critic Consensus: Manchester by the Sea delivers affecting drama populated by full-bodied characters, marking another strong step forward for writer-director Kenneth Lonergan.
Manchester by the Sea Videos
Manchester by the Sea Photos
Movie Info
After the death of his older brother Joe (Kyle Chandler), Lee Chandler (Casey Affleck) is shocked to learn that Joe has made him sole guardian of his nephew Patrick (Lucas Hedges). Taking leave of his job, Lee reluctantly returns to Manchester-by-the-Sea to care for Patrick, a spirited 16-year-old, and is forced to deal with a past that separated him from his wife Randi (Michelle Williams) and the community where he was born and raised. Bonded by the man who held their family together, Lee and Patrick struggle to adjust to a world without him.
News & Interviews for Manchester by the Sea
Critic Reviews for Manchester by the Sea
Audience Reviews for Manchester by the Sea
½
This is an incredibly sad tale about sad people in a sad town. It's the typical bone-dry film that critics drool over, but it just didn't leave an impression on me. Casey Affleck's performance is really great, the screenplay is occasionally funny but mostly somber, and the directing is fine. This film is an interesting character study, but one that can lull you to sleep pretty easily.
Sanjay Rema
Super Reviewer
½
If you're looking for a recommendation by reading this review, I will first begin by stating that this will be a very subjective film for moviegoers. Even if the trailers intrigue you, average moviegoers may be turned off by the pacing or the constant flashbacks mid-scene. Manchester by the Sea is more of a story that you watch in order to get to know the people in it and leave them before any big conclusion. Structurally and in its climax, this film is unconventional to say the least. Having said that, this one of the most honest films I have seen this year. It is not afraid to get overly depressing when the story requires it to, which I immensely admired. Here is why Manchester by the Sea is receiving so much praise from critics and audience members. Hollywood films make a point of having a lens flare or a big swoosh in order to let their audience know they are going back in time. What I love about some independent films (Manchester by the Sea in particular) is the fact that they do not need flashy effects in order to get their story across. This film follows Lee Chandler (Casey Affleck) after the passing of his brother. Having to take over the custody of his nephew, he quickly learns what its like to be a father again. Heartbreak after heartbreak, every flashback manages to capture a darker and much sadder moment throughout his past. If you are hoping for a happy ending to a sad tale, you will be very disappointed. This film explores the harsh reality of loss and I can't do anything but commend the filmmakers for that. Casey Affleck is the talk of the town this year for his portrayal of Lee Chandler, and while he absolutely deserves it, I found myself quite enjoying the performance given by Lucas Hedges. He has made appearances past films like Moonrise Kingdom, but this truly is his breakout performance. He was perfectly cast as this character who has begun to focus on women and teenage issues, all while being torn apart by the loss of his dad. The chemistry between Casey Affleck and Lucas Hedges is definitely something worth talking about. That being said, the one and only aspect that I can complain about here, is the absence of Michelle Williams' Randi. Although terrific, Michelle Williams was not in the film enough for my taste. Yes, when she is present, the division of this couple (Lee and Randi) feels emotional earned, but could have used a few more scenes together to further their farewell even further. Which brings me to my next point, which is the terrific writing. Manchester by the Sea is so realistically written that you can almost find nothing to complain about, but for that reason alone, I feel that writer/director Kenneth Lonergan could have easily added a few more scenes. That being said, these are just minor issues I have with an otherwise perfect film all around. Still, that did stand out to me in the end. In the end, the reason people have been praising this film so much is solely due to how well these actors bring such a magnificent screenplay to life. Those are the two aspects that make this film picture-perfect. For myself, I had a few issues here and there, leaving me wishing for a little bit more in the end. Don't get me wrong, I love Manchester by the Sea, but I do feel the hype will sour certain people's experience with this film in the theatre. Wherever this film is playing, audiences have been flocking to the theatre to see this Oscar-worthy film, and that is absolutely for good reason. Manchester by the Sea is the definition of why studios will always continue to travel to Film Festivals and pick up fantastic products. For film lovers who are able to forgive a slow pace (which flies by here anyways) and an extremely depressing storyline, Manchester by the Sea truly is a terrific picture. There may have been a bit more I wanted to see from this film, but overall, its fantastic!
½
Trauma and grief are common colors in the palette of screenwriting. Wounded men and women overcoming loss and sorrow allow us all an opportunity to learn and heal through someone else's personal pain and suffering. It's the movie theater as therapist's office with art serving as catalyzing event to help those in need. When 2006's United 93 was released many critics thought it was too soon for a dramatic recreation of the events of 9/11. First, there's never a right estimation for how long the world of art should wait to respond to shared tragedy, but I argued that United 93 could function as a facilitator for healing for select moviegoers. It helps to be able to live vicariously through fictional characters on screen, and it makes us smile when they overcome those obstacles and give hope to the rest of us. Two new movies have taken very different paths to explore responses to trauma onscreen. Collateral Beauty is a star-studded affair built from a screenplay that sold for an estimated three million dollars. Manchester by the Sea premiered at the Sundance film Festival and blew away audiences with its understated and unsentimental portrait of loss. One of these movies goes big and miscalculates badly and the other delivers one of the better, more emotionally involving films of the year. I think once you hear the premises it'll be clear which is which. Lee Chandler (Casey Affleck) is living out an ordinary existence as a Boston apartment complex maintenance man. His routine is rudely interrupted when he receives news that his older brother Joe (Kyle Chandler) has fallen deathly ill. On the car ride north to Manchester, Joe passes away. Guardianship of Joe's 16-yea-old son Patrick (Lucas Hedges) is entrusted to Lee much to his shock. "I was just supposed to be the back-up," he says to himself to little avail. Lee wants to move back to Boston with his new ward but Patrick refuses, pleading that he already has a life in town he enjoys. Lee is itchy to leave because of his painful associations with his hometown, tracing back several years to a fateful night of tragedy he shared with his current ex-wife, Randi (Michelle Williams). Lee takes on the mantle of parent while trying to ignore the trauma he's doing his very best to ignore with every fiber of his working-class Bostonian being. The first impression from writer/director Kenneth Lonergan's movie is just how achingly authentic it feels. We drop in on the lives of these hardscrabble folks and glean important details as we progress, better forming a clear picture as to why they carry such pain with them as penance. In simplistic terms, it's a two hour-plus journey to reach a point where the main character can openly cry. It's also much more than that. It's an incisive character piece on grief and tragedy, a surprisingly funny movie, and an effortlessly engaging movie that swallows you whole with its familiar rhythms of life. There is no formula here for Lonergan. Each fifteen-minute sequence opens the movie up again for further re-examination, especially a middle passage that is truly devastating. It provides compelling evidence why Lee has decided to become a recluse drifting through life. It's not that Lee is lonely; he's actively disengaged from all communities and connections. There are three different potential openings with women who seemed flirty and interested that Lee could have capitalized upon, or at least pursued, but he does not. A woman spills a beer on his shirt and squeezes closer to apologize, pleading to buy him a drink. He coolly looks away, ignoring her, and instead chooses to wait until closing time so he can get into a drunken fight instead. Lee would rather feel pain than momentary pleasure. The movie is also a poignant father/son relationship told in waves, with as much humor as emotional breakdowns. Lee is trying to fix the situation the best way he can as if it was another clogged drain. He's thrust into a parental position that he doesn't feel fits. It's not that he's actively evading responsibility as he does try to accommodate his nephew, even driving him back and forth and covering for one of his two girlfriends to sleep over. Lee cannot work in his hometown because of his own lingering pain and also because nobody will give him a job thanks to the reputation he carries. For a long while it feels like Patrick isn't even registering the death of his father except for his distress at the thought of his father's body remaining in a freezer until the ground thaws for a burial. He's trying to live a normal teenage life filled with activity like band practice, hockey practice, and juggling some alone time with his two girlfriends. He seems like a normal teenage with a normal teenage attitude, and that flies in the face of our expectations. Hedges (Kill the Messenger) provides a nice dose of awkward comedy to keep the movie from drowning in sadness. The burgeoning relationship between Lee and Patrick takes on new familial elements and dynamics and each is feeling out that new role. This movie is more than an elegant bummer. Lonergan has only directed two movies prior to Manchester, both of them insightful, complex character studies with meaty parts for game actors. 2000's You Can Count on Me cemented the wide appeal and remarkable talents of Laura Linney and Mark Ruffalo. Then his follow-up, the criminally underseen Margaret, ran afoul with producers who wanted to trim its near three-hour running time. It was kept in limbo for five long years until 2011 where it met with a degree of fervent critical fandom, including yours truly. Manchester began as a starring vehicle for producer Matt Damon, but when scheduling conflicts got in the way, the project was reworked with Affleck in the lead and Lonergan told the story his creative impulses desired without studio interference. As a big fan of his previous directorial outings, I'm not surprised by the gripping results. He lets an audience draw conclusions from the impressions and pieces he offers, notably with Patrick's mother (Gretchen Mol) who he refers to as "not an alcoholic anymore." There isn't one big obvious scene but we're given enough pointed clues about Patrick's history with his mother and why Lee is adamant that his nephew does not live with his mother. The history of characters and their relationships follow this model, layering in further meaning as we continue at a safe distance in our seats. Things aren't spelled out as they are allowed to breathe, the furtive connections becoming perceptible in time like a message written in the fog of a window. Lonergan has great affection for his characters and their flaws, insecurities, and struggles. This was evident in Margaret where the title character (vividly played by a pre-True Blood Anna Paquin) was a teenage exploding with emotions, opinions, and thoughts and Lonergan celebrated her for this fact. I appreciate Lonergan's refusal to paint in broad strokes with all of his characters. This is Affleck's (The Finest Hours) movie and while good the more extroverted performers around him overshadow him. Affleck can be a gifted actor as evidenced with The Assassination of Jesse James by the Coward Robert Ford. He has a quiet intensity and a habit of burrowing inside himself to discover something raw and different. His performance feels like he's trapped in a PTSD shield that saps the life from him. He's drifting through his life and waiting to die, simply put. Because of his taciturn nature he doesn't garner any sizeable monologues to spill out all his feelings. He has to use little moments and the nuances of choosing his words carefully. When he tells Patrick "I can't beat it" those loads are loaded with meaning that he can only convey in subtext. When he stops to process that Randi has gotten pregnant from another man we notice the subtle registration of pain and regret, a twinge of memories he's trying to hold back. Affleck's performance is very subdued for most of the movie but it's in the final act where he cannot maintain his well-manicured bubble of resistance to the outside world. When Lee does start to cry, it will earn every ounce of your sympathy. Williams (My Week with Marilyn) is more presence than character in the movie, but when she does stay long enough she leaves an emotionally gut-wrenching impression. I understand that "gut-wrenching" is a pejorative term but it's really one of the more uplifting moments in the movie. That's because her character's reunion with Lee isn't one of enmity but reconciliation, allowing her to make amends and say plenty of things that she's been holding back for years. It's an unburdening and once Williams starts it's hard not to feel the flow of tears coming from your own eyes. She is a one-scene wonder, reminiscent of Viola Daivs in 2008 for Doubt, nominated for Best Supporting Actress and well deserving a win for one brilliantly acted scene. Fitting then that Davis looks to be Williams' chief competition for Supporting Actress this year. I invested even more in this scene because the power of Randi's emotional honesty almost pulls Lee out. He's shaking, his voice cracking, and trying to stick to saying the customary conversational tokens that have gotten him through to this point. He's avoiding confronting reality but the sheer emotive force of Randi almost pushes him to that genuine breakthrough. If there is one noticeable drawback to such an exquisitely rendered film, it's that it follows the narrative structure of real life perhaps a bit too faithfully. Life doesn't normally follow a three-act structure with clearly defined character arcs and a carefully orchestrated system of measured payoffs. While Manchester by the Sea isn't exactly an automatic entry in mumblecore paint drying, it's certainly less indebted to familiar story structure, which does affect the overall motor of the story. You don't have a strong sense of its overall direction, an end point, and while the pacing isn't glacial it can start to feel bogged down in those wonderful New England details of everyday mundane life (how many times do we need to see Lee driving?). There are also probably more flashbacks than necessary to flesh out the characters in an implicit manner. If the movie wasn't 137 minutes I might accuse it of padding its running time. It doesn't take away from the overall enjoyment of the film but you feel a certain loss of structure and payoff. In contrast, Collateral Beauty is entirely reliant upon plot machinations and a formula serving a very Hollywood-styled ending. Sometimes maybe an audience would prefer a little more of a driving force and a little more oomph for an ending. While certainly lacking in just about every factor, I'd say that Collateral Beauty does feel more climactic with its conclusion than Manchester, which sort of rolls to a close that makes you say, "Oh, I guess that's it then." Sometimes realism can profit from a judicious nudging. While ostensibly being about two men overcoming the loss of someone close to them to function in everyday society once more with meaningful personal relationships, there's quite a wide divide between Collateral Beauty and Manchester by the Sea. One represents a more calculated and morally dubious reflection of trauma as theatrical game leading to Big Twists that are meant to leave an audience swooning from the magic of reconciliation. While fairly grounded on its own terms for a far majority of its time, Collateral Beauty can't help itself and steers into a ditch of bad plotting, made even worse by the fact that it puts so much significance on its preposterous final destination. It manages to cheapen the movie as a whole in retrospect as an elaborate parlor trick that rivaled what the ethically challenged heroes of the tale were perpetrating. On the other side, Manchester by the Sea is a carefully observed and intimate portrait of grief and the consequences of self-destructive detachment from a larger world of compassion. The acting is terrific and lived in, authentic to its core and stuffed with meaningful details that Lonergan leaves to his audience to formulate. However, some of its indie auteur sensibilities do have a somewhat negative impact on the pacing and ultimate conclusive nature of the movie. It's not that the film is open-ended; it's just a "life goes on" kind of ending that doesn't exactly inspire the strongest feelings of satisfaction. Grief will always be a topic that attracts filmmakers and especially actors because of its inescapable drama, stakes, and general relatabilty. I only implore any readers that if you're trusting filmmakers with two hours of your emotion, make sure they earn that privilege. Nate's Grade: A- (originally written as combined review with Collateral Beauty)
Nate Zoebl
Super Reviewer
Manchester by the Sea Quotes
There are no approved quotes yet for this movie.
Discussion Forum
Discuss Manchester by the Sea on our Movie forum!