Me Without You
(2002)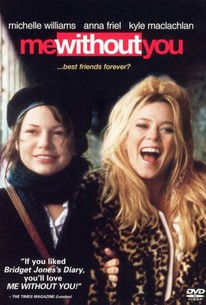 Movie Info
The joys and horrors of female friendship are explored in writer/director Sandra Goldbacher's Me Without You. Bold, brash, and fashionable Marina (played by Anna Popplewell as a child, and Anna Friel as a teen and adult) comes from a broken home. Her mother, Linda (Trudie Styler, who executive produced Guy Ritchie's first two films, and is also Sting's wife) is a hip young divorcée who apologizes every time she yells at her children. Holly (Ella Jones as a child, Michelle Williams of Dawson's Creek and Dick as a teen and adult) is a timid bookworm, mildly ashamed of her Jewishness, and easily goaded into more outrageous behavior by Marina. Holly's mother (Deborah Findlay) tells her early on not to expect too much from men. She helps lower her daughter's expectations by telling her, "Some people are pretty people, and some are clever people, which is more important than looks." As girls in the early '70s, Marina and Holly form a pact to become "Harina," inseparable best friends. Next-door neighbors, they are never apart for long. But Holly harbors a secret crush on Marina's older brother, Nat (Oliver Milburn), and when the girls are teens, and Marina finds out about Holly's feelings, she does her best to keep the two apart. In college, when Holly bonds with a lit-crit professor, Daniel (Kyle Maclachlan), over Andrei Tarkovsky and Ingmar Bergman, Holly feels compelled to sabotage their budding relationship, by seducing Daniel first. Eventually, Nat, despite his lingering fondness for Holly, gets seriously involved with a French actress, Isabel (Marianne Denicourt). As the girls get older, their differences become more apparent to Holly, and she begins to question their friendship. The film covers three decades, with songs and costumes appropriate to each era.
People Who Like this movie also like
News & Interviews for Me Without You
Critic Reviews for Me Without You
Audience Reviews for Me Without You
Needful Things... I mean, Me Without You, juggles several themes without a catastrophy - does this make for great entertainment? Not necessarily, though there is certainly enough here to mull over. The "story" involves two young girls; next door neighbors who probably, if they weren't next door neighbors, would not have connected. In one corner you have Holly, the product of a stable Jewish family, who has been told since a toddler that she has brains, not beauty. In the other, you have her opposite, Marina, from a broken family whose mother instills the virtue of beauty. Once the two main charactors are introduced you get to live with them for the next 30 years via a series of vignettes that, taken seperatly, are often flat and uninvolving, but as a whole take on new life and direction. While the early part of the film wallows in pathos and boredom, there is a much deeper subtext that makes this film watchable. I made the lil joke about needful things, because that's what all the charactors are, especially Marina. Whether it's because of her father's rejection, or her mother's teachings about beauty and attention being the true way to wealth and happiness, she not only needs the spotlight all the time, but perceives that she needs ANYTHING that anyone else might desire as well. So, she takes anything that Holly may want, including men. It's easy to understand why Marina needs Holly, since she's such a Diva and always needs applause and attention, but why does Holly tolerate Marina? Is it because Marina offers some sense of adventure and wonder that her own bookish life fails to provide? Or is it, in her case, a true sense of kinship and the bond formed by lonliness? These themes are all interesting, but it's subtext and not the crux of the film, which seriously meanders as it tells it's story of the two girls and those around them (particularly Mirina's older brother, who a young Holly has a crush on and later.... well, let's just say there's lot's going on). I could have done without much of the period effects - too much of the disco scene - oh, look at the gay guy doing a fan dance - and other superflous scenes drawn simply to impart a sense of the era. I also found the drug party scene to be rather pointless, except to perhaps give an underpinning to the main charactors. Further scenes also left me underimpressed, though they gave me ample time to comtemplate the underlying stuff I've already discussed. I also felt that the final scene where Holly has finally had enough of Marina's needs to be a bit melodramatic - not from Holly of course, but Marina's blathering soul sucking need and then her subsequent emotional breakdown... it just played slightly over the top and false. But then the film redeems itself with a very nice closing scene 10 years later - the girls are back together, out in the backyard watching their own two children, both girls, cavorting about. Without saying anything the film say volumes as it freeze frames on the next generation. The meaning is evident, and the cycle of need continues.
paul sandberg
Super Reviewer
½
Cast: Michelle Williams, Anna Friel, Oliver Milburn, Kyle MacLachlan, Trudie Styler, Marianne Denicourt, Steve John Shepherd, Allan Corduner, Nicky Henson, Deborah Findlay Directed by: Sandra Goldbacher Summary: In 1970s London, two young girls, Holly (Michelle Williams) and Marina (Anna Friel), grow up next door to each other, share intimacies and survive mutual traumas. Their lives are completely intertwined, and they make a pact of eternal friendship they don't ever plan to break. But as they progress through adolescence and young adulthood in the turbulent 1980s, their friendship and resolve are tested. My Thoughts: "It's really surprising how much I not only enjoyed this film, but how much I related to it. Me and my bestie have much of the same relationship as Holly and Marina. It's a gals, gals movie. Not much for the guys. But it's a great film that should be seen even if its about a couple of best-friends staring two girls. I was surprised that I liked it, because most best-friend films are full of bubblegum bullshit. This film felt like it was a very honest and real portrayal of a friendship/sisterhood. Love Michelle Williams. Her and Anna Friel where great together. Thought they were both believable as besties. Will definitely watch it again."
♥˩ƳИИ ƜѲѲƉƧ♥
Super Reviewer
½
Seriously? What a story! What an awfully bad execution of that story!~
Joseph Eastmond
Super Reviewer
Me Without You Quotes
There are no approved quotes yet for this movie.
Discussion Forum
Discuss Me Without You on our Movie forum!