Mobsters and Mormons
(2005)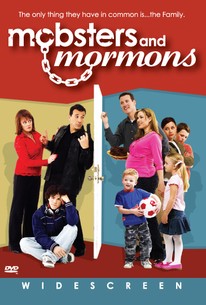 Movie Info
Can an East Coast mob mechanic find happiness in the most straight-laced community in America? Carmine "Beans" Pasquale (Mark De Carlo) is a gangster from New Jersey who is pinched by the FBI and learns the only way he can avoid spending the rest of his life in jail is to tell the cops all he knows about his boss, Angelo Marcello (Michael Kagan). However, Pasquale knows if he talks to the Feds, Marcello's top hit man, Little Nicky Cappuccino (Joe Maruzzo), will see to it that he never speaks (or breathes) again. To ensure Pasquale's safety, the FBI enroll him, his wife, Gina (Jeanette Puchich), and their teenage son, Vincent (Clay Taylor), in the Federal Witness Protection Program. Now known as George Cheeseman and supposedly hailing from Nebraska, Pasquale is relocated to Moab, UT, a quiet Mormon enclave where the new family feels very much out of place. As Pasquale learns to live without a strong cup of coffee while working a nine-to-five job, his aggressively friendly neighbors struggle to make the new folks in town feel welcome. Mobsters and Mormons was written and directed by John E. Moyer, a Utah filmmaker who has made a number of offbeat comedies pertaining to the Church of Latter Day Saints.
Rating:
PG (for mild thematic elements, some language and violence.)
Genre:
Directed By:
Written By:
In Theaters:
On DVD:
Box Office:
$67,945.00
Runtime:
Critic Reviews for Mobsters and Mormons
Audience Reviews for Mobsters and Mormons
Surprisingly better than the other LDS movies. It wasn't as good as "Saints and Soldiers" but it was still and enjoyable flick that deserves it's "Fresh" Rating. And even if you aren't a Church member, the witty relate-able jokes are sweet and fun for the whole family.
Matthew Henry
This was a terrible movie for many reasons. It was very stereotypical of mobsters and people in the east. It had very unfunny jokes. It had jokes that were graphic for kids. This did not have a good plot at all and TERRIBLE acting. Even though I like Mark DeCarlo's work, he was not good at all in this movie. There were some funny jokes that would give you a chuckle, but what really made me laugh is how offensive this movie is! Don't see this movie! I promise you it is not good!
Matthew John
This is exactly how it is when a new family from the east coast moves in and they are non members. hahaha man that is great.
Ellen McCluskey
Mobsters and Mormons Quotes
There are no approved quotes yet for this movie.