Moving McAllister
(2007)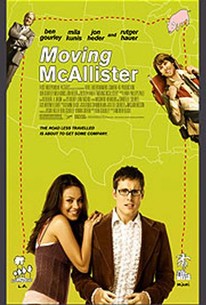 Movie Info
An ambitious young intern at a prestigious Miami law firm finds his dreams of passing the bar and becoming a real lawyer thrown into question when he hastily agrees to help one of the firm's partners move -- only to discover that the attorney's new home is in Los Angeles. Rick Robinson (Ben Gourley) has what it takes to become a great lawyer, the only trouble is that he's a bit of a pushover. Though today he spends most of his time copying documents and dreaming of courtroom debate, in four short days he will take the bar and begin his professional career. Upon stepping into the office elevator and noticing one of the firm's partners, Maxwell McAllister (Rutger Hauer), the starstruck Rick jumps at the chance to help the counselor move. His patience is put to the ultimate test, however, when he arrives at the lawyer's house to find a mountain of boxes and a note demanding that he hire a moving truck and drive the load to Los Angeles. As if that weren't bad enough, the lawyer's pet pig and spoiled, college-dropout daughter, Michele (Mila Kunis), will be joining him on the drive. Not only does the tempestuous Southern belle seem intent on sabotaging Rick at every turn, but by the time he arrives in L.A. he will have to jump on a plane and race home in order to take the bar exam on time. Strong bonds have a funny way of forming in tense situations, though, and before Rick and Michele know it, they can't stand the idea of being apart. Moving McAllister also co-stars Jon Heder (Napoleon Dynamite).
Critic Reviews for Moving McAllister
Audience Reviews for Moving McAllister
½
Can't figure out why people didn't like this movie. I thought it was funny. If you go in not taking it too seriously then you are bound to enjoy the quirky characters and the crazy antics. I say it's funny.
Leigh Ryan
Super Reviewer
½
Ben Gourly, Mila Kunis, Jon Heder, Rutger Hauer, Hubbel Palmer Rick Robinson is a ladder-climbing law intern from Miami with four days until the Bar Exam. Desperate to score points with his boss (McAllister), he commits to a favor he can't afford. He ends up in a rundown truck headed to L.A. with his boss's possessions, his Hollywood-bound niece, and her pet pig. Amidst hitch-hikers, breakdowns, and assorted local yokels, Rick finds love, life and maybe himself in this trans-American road trip from hell. ~~~~~~~~~~~~~~~~~~~~~~~~~~~~~~~~~~~~~~~~~~~~~~~~~~~~~~~~~~~~~~ Great comedy. Laughed a lot through this film. It's silly, quirky, a little weird, and very entertaining. Jon Heder was hillarious in this movie. Just a fun roadtrip movie to watch, not to be taken seriously. About a guy just finding himself with the help from a couple of free spirited people. This movie got a lot of bad reviews, but I have to disagree. I found it refreshing and very funny. Maybe not most peoples taste, but I like these kinds of comedies. There's no doubt that this movie will make you laugh.
♥˩ƳИИ ƜѲѲƉƧ♥
Super Reviewer
Chosen 718
Super Reviewer
Moving McAllister Quotes
There are no approved quotes yet for this movie.