Mulholland Falls
(1996)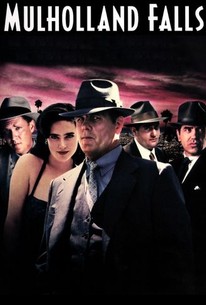 Movie Info
Set in 1950s Los Angeles, this film centers on the crime investigation of the notorious "Hat Squad," members of the LAPD noted for being natty dressers. They were also known for using unorthodox and violent methods for taking care of crooks.
News & Interviews for Mulholland Falls
Critic Reviews for Mulholland Falls
Audience Reviews for Mulholland Falls
The glory days of the chain-smoking LA cops' "hat squad" are brought back in this stylish neo-noir conspiracy thriller. They represent a tough, no-nonsense approach to criminals, with just the right amount of smart-aleck humor thrown in (not annoyingly constant like The Expendables). Director Lee Tamahori captures all the atmospherics and details of the "atomic age." The cast is fantastic, led by emotional performances by Nolte and Griffith. Jennifer Connelly is a mesmerizing, enchanting beauty. She plays a world-wise girl who still manages to stay fresh-faced. The spot-on recreation of LA's bygone glamour era, the conspiracy-laden plot, and the excellent cast highlight this film. I'm a sucker for neo-noir, and although this isn't quite Chinatown, it is a valiant effort. Tamahori and writers Dexter and Mutrux even chose to end the film on a down note. The squad's broken up, and Griffith leaves Nolte, exclaiming "You broke my heart, Max." Noirs shouldn't have happy endings.
Clintus Maximus
Super Reviewer
This movie needed more Jennifer Connelly, and it needed to be in black and white. I'm sorry, but noir never really works for me unless it's steeped in shadows and a colorless world. That's just what I've been conditioned to expect from a good noir movie. If Mulholland Falls would have been set in the modern day, I think that the color wouldn't have bothered me as much, but the combination of the time period and the style makes the colorization just to much for me to tolerate. As for Jennifer, she's the crux of the film, but we don't get to spend very much time at all with her. We don't get a sense of who she is and why she did the things that she did, and that greatly lessens the impact of her death. If you don't care about the core of the story, then it's difficult to have any real investment in the rest of the movie. In all honesty, even if the movie was in black and white and Jennifer Connelly had two times more scenes, this movie would probably still be boring. I just never cared or was interested in what was going on. Michael Madsen was wasted, there wasn't nearly enough of John Malkovich, and Nick Nolte was just smacking people and looking grim. Mulholland Falls gets two stars for Jennifer Connelly's magnificence, but even her wonders barely made it worth watching.
A good movie with a great cast but would have been better if it had more character development, There are also a few cliche moments & some unconvincing ones
Mulholland Falls Quotes
| | |
| --- | --- |
| Max Hoover: | Human sacrifice is the cornerstone of civilization. |
| Max Hoover: | He said the cornerstone of civilization was human sacrifice. |
Discussion Forum
Discuss Mulholland Falls on our Movie forum!