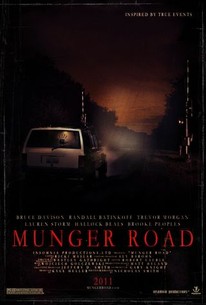 Munger Road
2011, Mystery & thriller, 1h 25m
4 Reviews
250+ Ratings
Where to watch
Subscription
Rate And Review
Movie Info
Police launch a search after four teens go missing the night before their town's annual festival.
Audience Reviews for Munger Road
This is what a PG-13 slasher would look like if there was no actual on-screen violence. There is something to be said about the less-is-more approach when it comes to all films, not just horror. But, and sadly too, that just doesn't end up working in the long run in this film. It's one of those films that shows the promising start of a new filmmaker, it's not their peak, but there's hints of potential here and there. Holding back on something whereas most other directors would've shot their wad immediately is one. The problem is the fact that, once the film is over, you feel like you've wasted your entire time on something that was not going to be resolved. The film keeps building and building and building and building. For what? Absolutely nothing. And it's not like I found the film that effective at building suspense to begin with. It's a film about 4 teens stuck on the railroad tracks of a supposedly haunted road the same night a serial killer escapes from prison. Except nothing really happens until it's like over an hour into the film. I mean people do die before this point but it's not like it made any impact. They were building to it and it just didn't register at all once it finally did happen. Maybe it's because of the fact that they kept building to something that they weren't gonna show. I don't have a problem with that if the film does build up to that moment well and they, eventually, give you a satisfying payoff to this and the story. Nope. They spent all that time completely holding back on everything and you're hoping that the conclusion is satisfying. You would be wrong. They build to all that, nothing is resolved and the film ends on a 'To Be Continued.' What in the fucking shit is that??? I hate that kind of shit honestly. It's not that everything has to be solved in a nice and easy manner, I don't mind using my brain to figure some of these endings out, but this 'To be continued' bullshit is completely spitting in the face of the people. I chose to spend time out of my life, which is 1/3rd over by this point, to watch your crappy film and that was the ending we were given. A 'To Be Continued.' Fuck right off. It doesn't matter what came before it because the moment those words flashed across the screen, it was all over. Literally and figuratively. I think the writer/director, I think they're one in the same and not different people, thought he was clever, but it wasn't. Can you imagine if people actually paid for this bullshit? Like they actually bought the DVD. I'm pissed now and I, essentially, didn't pay for it due to it being on Netflix. I hated the ending and I'm surprised I haven't downgraded it from the 1 star rating I gave it. I do think there's some slight hints of potential. But they spend so much time building up this bullshit and for it to end like that, it was just terrible. It's not like the movie was really that interesting as it was. It's not like this was a 2 star movie ruined by a shitty ending, this was already a bad movie with an even worse ending. It's just that the one few good ideas kept it from being rated lower. It's another competently made film, but it's still pretty terrible all things considered. While there's some decent stuff in here, I cannot help but tell you to completely avoid the movie. The ending is really that fucking bad. I really do regret having watched this movie. That's not a good thing, at all. Real bad movie here.
See Details