My Flesh and Blood
(2003)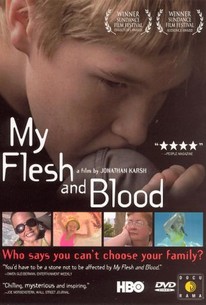 My Flesh and Blood Photos
Movie Info
Susan Tom of Fairfield, CA, is not a typical single mother -- Tom is the head of a family of 11 adopted children, all of whom are physically challenged or living with long-term illnesses. Tom and her special family are the subject of My Flesh and Blood, a documentary which examines the dynamic of this household, as well as the often demanding physical and emotional needs of the 11 kids and the heavy emotional burden Tom must sometimes carry as she looks after children who may not survive to adulthood. Produced for the HBO premium cable network, My Flesh and Blood was screened in competition at the 2003 Sundance Film Festival.
Critic Reviews for My Flesh and Blood
Audience Reviews for My Flesh and Blood
This documentary features a family composed of one adopting mother and eleven disabled children. It's almost impossible to write a review about this film. I can say for certain only that it was well-made, able to intimately capture its subjects' lives. Beyond that, there isn't much I can write without caveat. When the film first introduces us to Susan Tom -- during the first fifteen minutes -- we have already seen one of her children threaten to kill one or more of the rest. Additionally, we've met Faith, who has been burned to the point that she has no capability to grow hair, her skin looking like it's pasted-on putty, and Anthony, who has open sores across his face and body. Xenia, who has no legs, looks like she has it easy in comparison. My first thought about Susan Tom was one of condemnation. It seemed to me that she was mixing dangerous brew because the work that must go in to caring for all of these children with all of their ailments must mean that some needs get ignored. I thought that Susan Tom's behavior was motivated by a deep need to feel loved and admired, and such behavior ultimately worked to the detriment of the people she tries to help. As I continued watching the film, I saw this play out in Susan's relationship with Margaret, her biological daughter and the person, who, for me, becomes the most sympathetic "character' in the film. Margaret has some heart-wrenching moments when she begs her occupied mother for attention and approval but is ultimately told to "wait until tomorrow morning." But this is a person's real life that I'm writing about, so I feel uncomfortable attempting to be objective or judgmental about it, and I don't think I would be able to say what I just wrote to Tom's face. Why? Because she's caring for people whom society treats with little but pity. Though she falters at times, most of the time she accomplishes a daunting task. Overall, though my first reaction is to find Susan Tom's actions reprehensible even as the film attempts to convince me to celebrate her, I can't say that my first reaction held true throughout the remainder of the film.
Jim Hunter
Super Reviewer
½
Broke my heart... The truth of it all, these kids (although handicapped/disabled in their ways) have a better home life than most of the families I know. Scary thought, but so true.
Leigh Ryan
Super Reviewer
Humane, absorbing and life-affirming documentary about a unconventional family made up of one mum and eleven varyingly-disabled adopted children. It shouldn't work but it does, thanks to the matter- of-fact handling of the subject by the director and the children. No mawkishness or halo-polishing here, and a good one to watch the next time you think you've got it tough. ..
My Flesh and Blood Quotes
There are no approved quotes yet for this movie.