Opal Dream
(2006)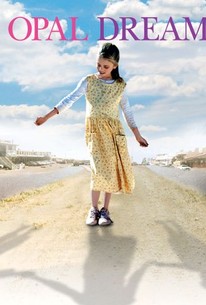 Movie Info
When the imaginary friends of a young girl living in Australia's Lightning Ridge opal-mining town go missing, the inexplicable illness that befalls her soon prompts her brother to organize a desperate search for his sister's transparent pals in director Peter Cattaneo's adaptation of Ben Rice's popular children's novella. Kellyanne is a young girl with a vivid imagination and two invisible friends named Pobby and Dingan. Though her brother, Ashmol, was never the affectionate type, his concern at seeing his little sister become ill after Pobby and Dingan disappear quickly sets into motion an incredible journey that will serve as a transformative rite of passage for not just Ashmol, but the whole town of Lightning Ridge as well. ~ Jason Buchanan, Rovi
Rating:
PG (for mild thematic elements, language and some violence.)
Genre:
,
Directed By:
Written By:
In Theaters:
On DVD:
Runtime:
Studio:
Focus Features
News & Interviews for Opal Dream
Critic Reviews for Opal Dream
Audience Reviews for Opal Dream
Rating: 38% Opal Dream boasts some thought, but the overly cliched script and unlikable characters just ruins the whole experience from beginning to end.
Mo Brown
½
For all my reviews visit my website idacashmansmoviereviews.webs.com Please note that the rating above might not accurately reflect my thoughts, you will see a rating sentence at the end of the review. I have mixed feelings about this one. Well, here's the first thing: Australia does not have as good actors as the US. They all seem bored and dried out from the desert that they live in. The scenery does not make me feel good nor does it look realistic. I thought Australia would be just a little more lush, maybe as much as the African Savannah, but not a complete desert, that's the Sahara. But there are good things, the script was obviously done by a professional, but I can tell the director and editor didn't do such a great job translating the script into visuals. So you won't be completely disappointed. Secondly, it plays a realistic tone as for casting. I think that may make it a little dry, but I believe that they did try to make things look realistic. If it didn't occur to you yet, all girls AND boys have imaginary friends. Some are in different forms, but this is because the child does not want to go to the outside world. Maybe we could see this in Alice In Wonderland (1951.) Some other things are why an Opal? I understand it may have been in the book, but you must understand such a change would not effect, scratch that, make it better. An Opal does have pretty stripes, but other gems are fully colored in vibrant colors. Even if it's transparent-blue, it would be better than just a regular stone with some stripes. That's like if you make a sand castle and just paint a few dabs on it, it only makes it more attraction generating and not positive reaction generating. And the wooden leg they find is way to small, and the lollipop wrappers are way to big. The movie is all just very dry, but it proves a good message. Though, I wish someone who actually had talent would make a movie involving a girls imaginary friends. But, at least these guys tried, where as other *cough*HOLLYWOOD!!!*cough* does seem to think that if they touch on anything that hasn't already been touched they'll get sued by angry parents. Guess what Jake? Maybe old subjects are also touchy, and you should just focus on making a good movie then making a Good Dang PROFIT!!!! So there ya go, I kinda rushed and picked at little things, but there ya go. Oh, the rating. Well, if there were more imaginary friends movies out there I'd give it a 2/5, but since it's an entire half of what I know of and the whole of what I've seen I'll say 3.5/5. I, Da Ca$hman signing off.
Da Cashman
½
Saw it on the library shelf and thought to give it a look. What a find! Beautiful story about real people, family, community and love. This could never have been done by Hollywood.
Frank Herrmann