Patrick: Evil Awakens
(2014)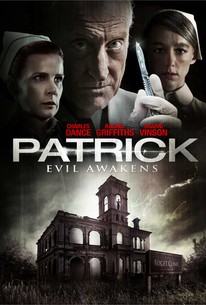 Patrick: Evil Awakens Photos
Movie Info
When a young nurse begins work at an isolated psychiatric ward, she quickly becomes fascinated with Patrick, a brain dead patient who is the subject of a mad scientist's cruel and unusual experiments. What starts as an innocent fascination quickly takes a sinister turn as Patrick begins to use his psychic powers to manipulate her every move, and send her life into a terrifying spiral out of control.(c) Phase 4 films
News & Interviews for Patrick: Evil Awakens
Critic Reviews for Patrick: Evil Awakens
Audience Reviews for Patrick: Evil Awakens
½
I appreciate the film's Gothic atmosphere, the psychiatric ward the film takes place in is the perfect setting for this type of film. It's almost a cliche if you ask me. This film certainly didn't really do much for me. It certainly has a goofier approach to the story, some of the deaths are downright laughable. These were by design, so I can't really complain. And the whole 'brain dead telekinetic' killer premise, though I know this is a remake of a 70s horror movie, is really absurd to me. It's clear that the movie wants you to laugh with it and not at it. With that said, I think this film is really average at best. It's got some good acting, I thought Charles Dance was entertaining in his role. He's got great presence but the guy also has some good comedic timing to boot. Sharni Vinson is also good, but her role, or her character at least, is something that you've seen done so many times by so many different people, both men and women, that it didn't really even register with me. But that's not Sharni's fault, it's just the scripting of her character, but she's good as well. The special effects are really terrible but, again, I believe it was intentional. Give the film B-movie look and feel on purpose. So I get that. What else can I talk about? Rachel Griffiths is also good. If there's one thing you can't complain about in this movie and that is the acting. Of course they're acting out this absurdly funny story, but they're still good. I'm struggling to come up with more stuff to say about this film, so I'll just leave it at that. This film certainly invites you to laugh with it with its absurdities and eccentricities, but I wouldn't say that this is a good movie. It's average at best. When it comes to horror films, where the bad-to-good ratio is far higher than with other genres, then average is great.
Jesse Ortega
Super Reviewer
Patrick: Evil Awakens Quotes
There are no approved quotes yet for this movie.