Performance
(1970)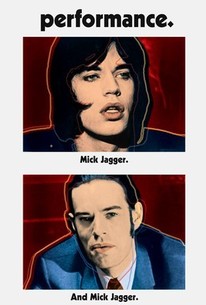 Movie Info
Even in an era of cinematic experimentation, Performance stands out as a visually daring major-studio film that deals with questions of sanity and identity rarely touched on in mainstream filmmaking. The elements of Performance certainly looked attractive to studio executives at Warner Bros. -- a gangster on the lam hides out in the home of a reclusive rock star -- especially since that musician was being played by Mick Jagger of the Rolling Stones. But co-directors Nicolas Roeg (who also photographed) and Donald Cammell (who wrote the screenplay) had much more in mind than a walk on the wild side of swinging London. Chas (James Fox) is a sadistic thug who gains our sympathies only because men even crueler than he are out to kill him. After Chas arrives at the mansion occupied by Turner (Jagger) and his female companions Pherber (Anita Pallenberg) and Lucy (Michele Breton), what looks like a decadent idyll fueled by drugs and group sex turns into a series of mind games in which Turner challenges Chas' sexual preference and core identity. Even the film's one musical number, "Memo From Turner," is a William Burroughs-like monologue in which Turner fantasizes taking over Chas' role as a mobster, spewing insults to his colleagues. The film's cult status has been fueled by subsequent films of its co-directors (for Roeg, Walkabout, The Man Who Fell to Earth, and Don't Look Now; for Cammell, White of the Eye), which explored similar themes employing the same kind of jagged editing and striking visuals. ~ Tom Wiener, Rovi
News & Interviews for Performance
Critic Reviews for Performance
Audience Reviews for Performance
½
Roeg's first film is a strange trip with a deranged Mick Jagger.
Graham Jones
Super Reviewer
Gangland enforcer James Fox gets involved with decadent fading rock star Mick Jagger in Nicholas Roeg's and Donald Cammell's cult film Few films encapsulate drug-crazed Swinging 60s London like this one, though it was only seen three years after it was made and then heavily-edited because Warners were shocked at what they had financed. The film exceeded the boundaries of good taste that always epitomized British cinema. This superbly shot, deeply disturbing, complex, often pretentious, often brilliant parable of confused identity was the first feature directed by leading cinematographer Roeg, sharing the credit with artist Cammell. An eerily plausible Fox, cast against type, plays Chas, a sadistic gangster on the run who rents a room in the Notting Hill Gate home of Turner (Jagger), a reclusive, sexually ambiguous, washed-up rock star. Fox, his antithesis, is offered women and magic mushrooms before literally swapping personalities with the singer. Fox abandoned the cinema for almost a decade after this film, such was its effect on him. Verdict A dazzling, ideas-rich, extraordinarily inventive full-stop to the 60s
Cassandra Maples
Super Reviewer
½
Mick Jagger plays a washed up rock star, which couldn't have been to hard for him to play. No, the performance involved is of the mobster who rents a room with them and pretends he's hip. This is an interesting movie, both if you're a Jagger fan, and if you want to see a movie about swinging 70s culture, and rock stars. I really liked this movie.
Performance Quotes
There are no approved quotes yet for this movie.
Discussion Forum
Discuss Performance on our Movie forum!