The Pest
(1997)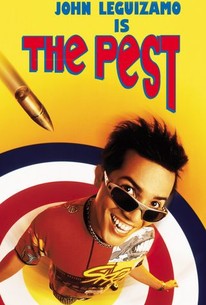 Movie Info
A man discovers the lighter side of being hunted down like an animal in this manic comedy. Pestario "Pest" Vargas (John Leguizamo) is a low-rent con man from Miami's South Beach who has fallen deeply in debt to ill-tempered members of the Scottish mafia (complete with kilts). Desperate to raise $50,000 to stave off having his legs broken (and possibly turned into haggis), Vargas takes an offer for a very high paying one day job from Gustav Shank (Jeffrey Jones), a German businessman visiting Florida. However, it's not until later that Vargas finds out what Shank has in mind. The lunatic white supremacist Shank transports Vargas to his island compound, Little Germany, and announces that he will hunt him as wild game. If Vargas can survive for 24 hours, he gets the cash; otherwise, his head will join the others stuffed and mounted on Shank's wall. Can Vargas' speed, agility, and gift for cheesy impersonations save him now? John Leguizamo co-wrote The Pest's original story, loosely based on the classic adventure tale The Most Dangerous Game. ~ Mark Deming, Rovi
People Who Like this movie also like
Critic Reviews for The Pest
Audience Reviews for The Pest
This is one of those comedies that use gross out moments in trying to create humor. This film fails at being a good comedy and it is not worth watching. The reason why the film fails is because it has a poorly written script, one that isn't really funny. This film had a good idea, but execution of its comedy was very poor. I've seen this film when originally released, and though I thought that the idea was good, there was just something missing from this film to really make it worth seeing. This is simply put, a stupid comedy that is more annoying than funny. John Leguizamo is pretty funny doing his stand-up comedy, but in this film, he's absolutely wasted. This is a poorly constructed film that has dimwitted humor that doesn't work. This film had a good idea, but the gags are what make this one fail, and they're more gross than funny. This really could have been a good film, but due to a poor script, poor comedy and overall bad acting, it doesn't have anything going for it. Don't expect anything good with this film. It was a tiresome film, with no redeeming qualities and it just fell flat. There are no good comedy bits here, and there is just a poorly constructed comedy with gross out laughs that really don't work. This is a poorly acted film, directed film and one to avoid. Watch something else instead, The Pest is never funny and is more annoying than anything. Leguizamo has made better films; this is just one to forget.
Fun and unforgettable. The thing is: The Pest is terrible dumb, and totally bad written. Anyway, still funny and very entertaining. One of my guild pleasure.
Lucas Martins
Super Reviewer
The Pest Quotes
There are no approved quotes yet for this movie.